Published on May 02, 2018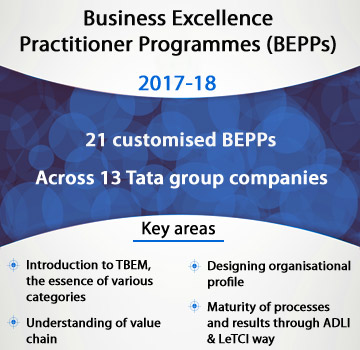 The year 2017-18 witnessed a series of 21 Business Excellence Practitioner Programmes (BEPPs) across 13 Tata group companies, each one designed and customised to the need of the respective companies. The programmes were designed based on the situation, target participants and the key focus areas for the company in question, while also keeping a common objective of 'TBEM for All'.
The focus areas of the 21 programmes facilitated were around the following key areas:
Introduction to TBEM, the essence of various categories
Understanding of value chain
Designing organisational profile
Maturity of processes and results through ADLI & LeTCI way
Process centricity
Role of an excellence evangelist
Innovation culture
These programmes were facilitated in companies like Infiniti Retail, ISWPL, JUSCO, Tata AIA, Tata AIG, Tata International (all BUs), Tata Metaliks, Tata Motors Finance, Tata Power, Tata Sponge, Tata Steel, TBSS and Trent Hypermarket.
Designed for senior executives and managers who run key functions of an organisation, the programme seeks to strengthen the appreciation of business excellence and enhance the preference for high performance. The BEPPs serve as a stepping stone to generate significant effort and thrust for improvement journey in an organisation and assist in rapid progress.
It was an experience by itself when BEPP travelled to the UK and the US gaining momentum and appreciation around the world. The feedback from company heads and participants has been very positive with 73% of the participants rating their experience with BEPP greater than 7 out of 10.

The BEPPs have been well received by the Tata companies with the clear answer to the question of 'what is in it for me?'
Being a Business Excellence Practitioner
Understand the principles of business excellence and how it supports high performance.
Appreciate the TBEM framework and the values on which it has been established.
Critically look at the design and management of organisational processes.
Recognise diversity in businesses and functions.
Develop systems thinking and an ability to act holistically.
Connect the dots in the organisation's environment that can multiply outcomes.
Enrich one's own role as a business manager and make the TBEM principles come alive.
The contingent of TBExG facilitators look forward to yet another wave of BEPP and reach out to more Tata colleagues across the world.