Tata Business Excellence Group (TBExG), since 2018, has made Data Excellence Assessments as an essential part of organizational management practices in the Tata Group.
In this era of 'Data as the new oil', we are surrounded by a flood of data. With organizations accelerating business optimizations & transformations, the need for 'Right Time Data' to drive improvements and decisions is expanding exponentially. Similarly, the quantum of data being generated through re-engineered and new processes has also leap frogged. In addition, digital technologies when deployed also produce high velocity and high variety of data.
Companies are leveraging data insights to create competitive advantage as a strategic pathway for growth. It is also increasingly becoming evident that a data-centric approach goes beyond operational excellence and requires more than just installing the right tools and applications. It entails putting data and analytics at the core of everyday business processes and decision making.
TBExG had thus initiated Data Excellence Assessments as a new offering in FY19 to supplement the efforts of Group companies in dealing with the fast-emerging paradigms of the digital world and to help companies on their journey of data-driven excellence.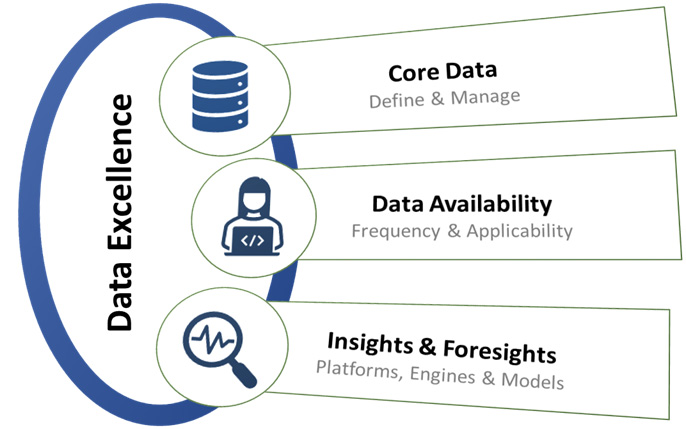 Data excellence refers to the impact of data management on not just the data itself, but also on additional aspects, such as technology deployment & adoption, delivery & service processes, and data related competencies. Data Excellence enables organizations to make superior & faster decisions (Operational, Tactical and Strategic) and also gain a competitive advantage.
TBExG has partnered with Tata Consultancy Services (TCS) to leverage their patented diagnostic instrument TCS Datom™ that identifies the current state of data-driven decision making in companies, and thereby helps define a desired state for the future. The team collaborates with subject matter experts from TCS and within the Tata Group to leverage their experience and knowledge in delivering value to companies.
TCS's proprietary framework TCS Datom™ is an outcome of years of experience in conducting Data Maturity Assessments for its customers through its Global Data Analytics practice and is continuously updated based on industry trends.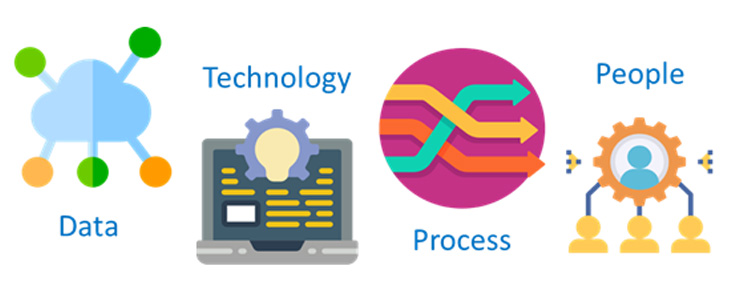 The assessment process involves diagnostics of the four core TCS Datom™ dimensions (defined as Key Result Areas) of People, Technology, Data Management and Process aspects of the organisation. The assessment results in a comprehensive analysis of the company's current situation and related challenges across 23 sub result areas under the four dimensions.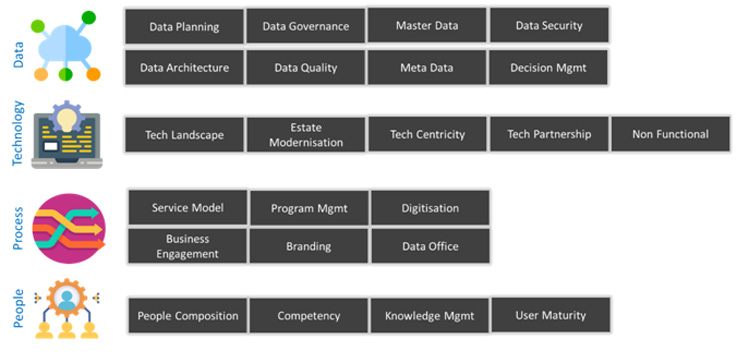 Of the four dimensions, Data Management is at the heart of the framework and probes deeper into an organization's focus on defining its core data, managing it to ensure its availability to the right people, at the right time and in the right form and evolving the decision-making ecosystem from hindsight towards foresight.
Assessment methodology includes the team inspecting the various documents and information shared by the company, industry & technology trends, and interactions with members from the assessee company. The framework is leveraged to arrive at a diagnostic report, business imperatives, opportunities, best practices, use cases and a Datom™ score depicting the maturity level of the organisation.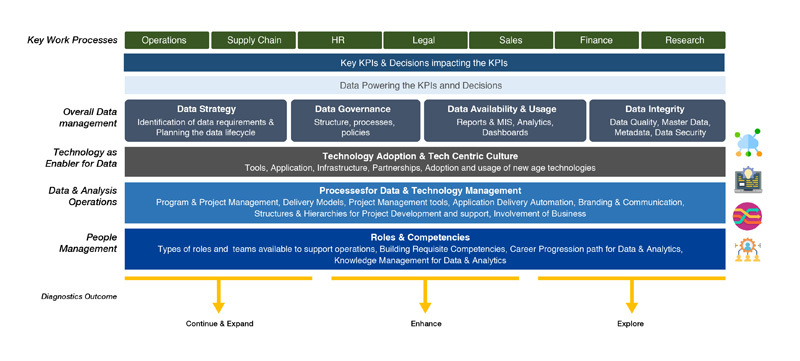 The maturity level ranges from early stages (0 to 0.99), Simplified (1 to 1.99), Scaled (2 to 2.99), Synergized (3 to 3.99) and Self Optimized (4 to 5) based on the Datom™ Index Score.
The TBExG team conducts expert training programmes through various formats on the TCS Datom™ framework and Data Excellence Assessment process to facilitate Tata companies in their Data Excellence Journey, as well as to create a pool of data excellence practitioners and assessors within these companies
To further support the adoption of data-driven excellence in Tata companies and create evangelists, the team also offers programmes such as, a self-paced web module certification, classroom sessions, TNF events, senior leadership sessions, best practice documents, webinars and learning through participation in the Data Excellence assessments.
The Data Excellence movement has been continuously driving the ecosystem for Data Driven decision making in Tata Companies and helping them become more agile and future ready.