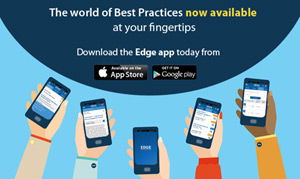 EDGE is a multi-dimensional portal aimed at facilitating learning and sharing of promising practices by Tata companies. The idea behind the EDGE portal was to create a platform that would enable sharing and learning of good practices through structured documents as well as narratives, questions, blogs, etc.
The EDGE portal, which can be accessed by all Tata employees, serves as a repository of knowledge assets as well as an enterprise social network for the Tata group. The portal enables Tata employees to get in touch with practice owners and subject matter experts, and encourages the adaptation and implantation of promising practices within their respective companies.
Some of the promising practices submitted on the EDGE portal encompasses subjects like Human Resources Management, Operations Excellence and Continuous improvement, Strategy Deployment, Customer Relationship, Sustainability, Marketing and Brand Management, Safety, etc.