Published on March 13, 2019
The Experienced Assessor Programme (EAP) has been the flagship programme of Tata Business Excellence Group (TBExG), which helps to collectively acknowledge the key imperatives facing the Assessment process and equip the experienced Assessors for the next round of the Assessment cycle.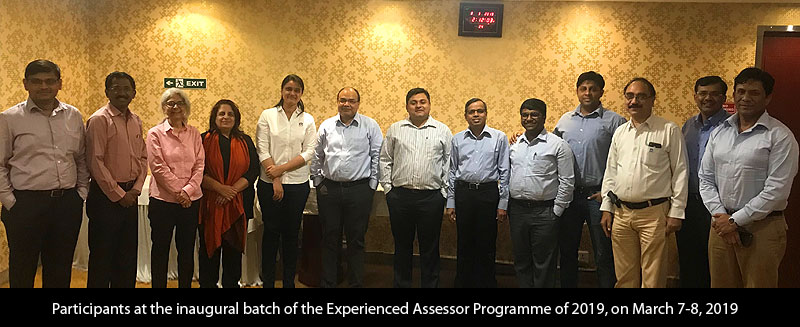 The inaugural batch of the EAP, which took place on March 7-8, 2019 in Jamshedpur, facilitated by Subhrajit Basu, Deputy General Manager, TBExG, received encouraging feedback from the participants. The key takeaways were:
How to understand Matrix to understand the current and future focus areas
Narrative way of reporting
Identification of key results and linking them to the processes
Elements of scoring
Appreciating context in weaving the future state in the reportage
Importance of listening
The theme was based on '5As' and the various discussions sync together to bring greater focus on business and its nuances.

5As of EAP 2019:
Assurance to users that TBEM is dynamic, continuously listening and improving
Acclimatisation with core principles of the excellence process, while evaluating their manifestations
Appreciation that users (including Assessors) need to be flexible in interpreting and using TBEM
Adaptation to newer paradigms that drive excellence in an insanely diverse world of today
Application of TBEM to the specific circumstances of an organisation, to highlight business acumen
The power-packed agenda in EAP 2019 aims to enhance the business connect in the Assessment process. It starts with understanding the business context, identifying and linking key results with processes, putting business insights in the maturity matrices for better rationale in scoring, sharpening comments/NERDs by using business language and then crafting a business narrative using a live case study. All these are added with a session on appreciative inquiry and in this EAP, the focus is on listening skills. In total, there are 10 EAP batches planned for this season.

This year, TBExG has also introduced 'EAP Plus' for Assessors who have completed at least five external TBEM Assessments. This is being done to acknowledge the need to segment 'experienced Assessors' further and help balance the variation in the learning agenda.