Published on March 28, 2018
As the Tata Group marches into 2018 to reach the milestone of completing 150 years in business, it is all set to brace itself for a higher growth trajectory. When bolstering its talent pool with new leaders, it cares to see that they have the avenues to develop an appreciation of the Tata Group and its heritage, and foster and share their understanding of One Tata with others.

The Tata Network Forums (TNFs) help create a spirit of Tata-ness among employees across the globe, and facilitate a healthy exchange of ideas. TNF India - South had expressed the need for organising a session that provides a contemporary overview of the group with the right blend of its history and heritage.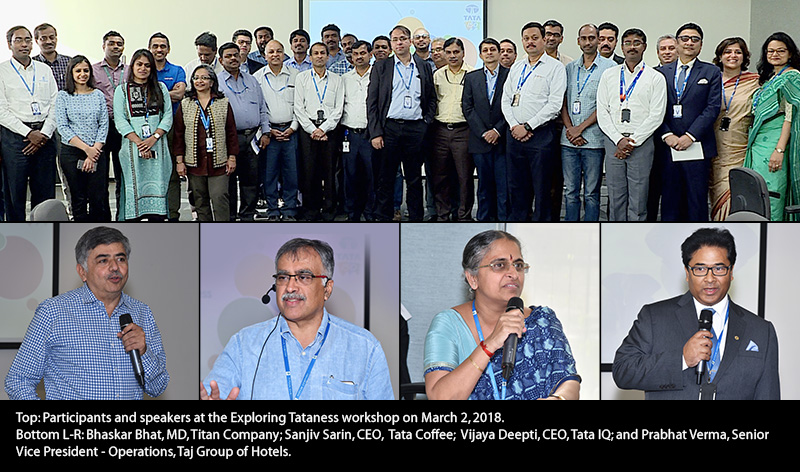 The result was Exploring Tata-ness — a short workshop designed by Group HR in collaboration with TNF India - South and TBExG. The workshop was conducted on March 2, 2018, and sought to edify its participants with the ideology of One Tata by encouraging appreciation of the Tata heritage and building a deeper understanding of the tenets of Tata-ness, taking it beyond being just another neologism for those freshly inducted in the system.

The workshop was conducted at the new premises of Titan, in Bengaluru, and was attended by 39 executives from 10 group companies — Tata Elxsi, Titan, Indian Hotels, TCE, Tata IQ, Tata Coffee, Tata Hitachi, Tata Motors, TCS, and Tata Power Solar.

The session opened with Sanjiv Sarin, Chairman, TNF India - South, and CEO, Tata Coffee, sharing with the participants his perspective on Tata-ness. According to him, Tata-ness is demonstrative of Tata's ownership of community welfare goals without losing sight of its business results. Following this, each participant responding to 'what Tata means to you' and 'how you would describe Tata-ness'.

The next session saw Bhaskar Bhat, MD, Titan Company, sharing his perspectives on leadership. He elucidated some of the important tenets of Tata-ness by sharing an account of his personal journey within the group. According to him, Tata-ness refers to the group's pioneering spirit and entrepreneurship, which prods it to boldly venture into new businesses, spark innovation, think big, pursue excellence with incessancy, and maintain an unconditional positive regard for people. He noted that Tata leaders stand out for their courage, excellence, and strong people orientation.

Participants were then invited to share their personal stories and views. Vijaya Deepti, CEO of Tata IQ Business, shared the key highlights of her journey as the first woman campus hire in TCS. Tata-ness to her means caring and being fair. Prabhat Verma, Senior Vice President, Operations - South India/Srilanka/Maldives/UK at the Taj Group of Hotels referred to Tata-ness as 'the company of good people.' The session ended with the participants sharing and imbibing a collective understanding of the precepts of Tata-ness.

We deeply appreciate the invaluable contribution of TNF India - South members — Sumant Sood (Titan), Priya Vishwanathan (IHCL) and Sampath Kumar (Ex-TCS & Advisor-Tata Sons) for supporting this initiative all along. A special mention also goes out to Dr Swati Smita (Group - HR), Mr Kumar and Sanjeev Singh (TBExG) for facilitating the session.