Published on January 24, 2018
Tata Network Forum (TNF) India - East, organised a session on Supply Chain on January 15, 2018, at Telco Club, Jamshedpur. This was the first-ever meet specially focused on 'Supply Chain' and was led by A B Lall, Head - Manufacturing, CVBU, Tata Motors. The event brought together more than 80 Tata executives representing 17 Tata companies. Amitava Bakshi, Chief Procurement Officer, Tata Steel; Arunava Mandal, Head - Procurement, Mjunction; Tom Flack, Chief Purchasing Officer, Tata Motors; and Ganesh K from McKinsey, were some of the speakers at this day-long event.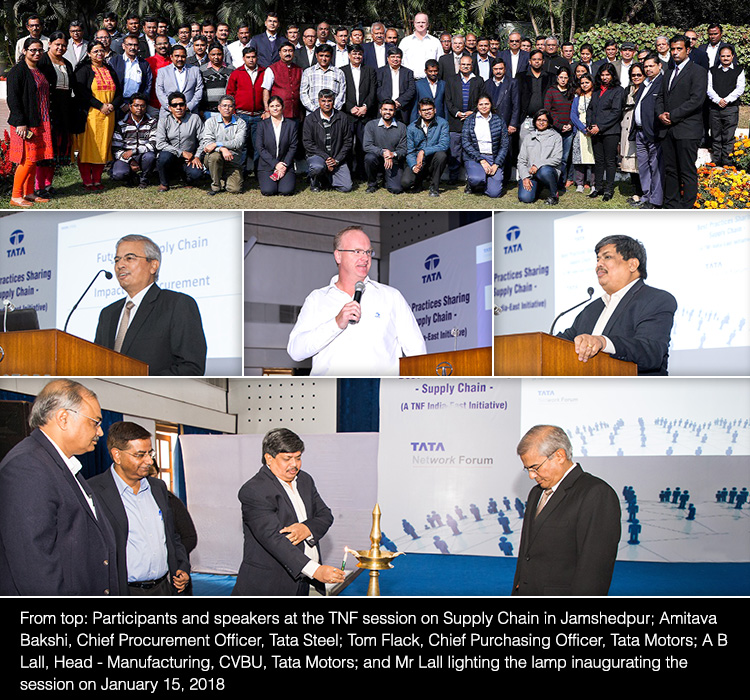 Mukesh Prasad, Convener, TNF India – East, welcomed the delegates with his opening remarks. He shared how the TNF is trying to foster a culture of 'One Tata' through these focused meets on essential functions of business. Mr Lall, set the context for the day and highlighted some important aspects related to supply chain design of Tata Group companies and the opportunities ahead. He also emphasised the need of cross learning for the companies for accelerated improvement.

Mr Bakshi, the first guest speaker of the day discussed the future of supply chain and its impact on procurement. He articulated the changes from analog to digital and impact on equipment. He also explained about Industry 4.0 Software Robotics and highlighted some points related to transformations in product and services.
The theme of Mr Mandal's session was 'SPOT – Simplifying Procurement, Optimising Transactions'. The presentation covered how high value packages were finalised through reverse auction and also demonstrated the capability of Mjunction to manage a complex bidding processes through reverse auction. The adoption of this bidding process results in optimisation of costs, improvement in process efficiency, transparency and reduction in process time. Mr Mandal also elaborated how an e-procurement platform can be used to aggregate the demand, manage multiple suppliers and reduce transactional load. The organisation reaps benefits in terms of greater savings, optimisation of resource bandwidth and reduced number of transactions.

The post-lunch session started with Mr Flack sharing his experiences of supply chain. He emphasised that one must have fresh, new products which excite others. He also focused on building close relationships with suppliers. In his presentation, he elaborated on how supplier benchmarking is conducted in India for OEMs of the auto industry.

Mr Ganesh K spoke about the impact of innovation and digitalisation on supply chain. He explained how innovation and digitalisation help an organisation to plan better, lower cost, ensure safer operations and enhance service level using better technology. Supply Chain 4.0 (innovation and digital) revolves around six value drivers: Supply chain strategy; Supply chain planning; Physical flow; Performance management; Order management; and Collaboration. Mr Ganesh K also shared how McKinsey created the Digital SC Compass that maps top 20 SC innovation and digital 4.0 levers to the above-mentioned value drivers.

The day ended with a very engaging and interactive Q&A session. Nidhi Basu, Lead – Knowledge Management, Tata Motors, proposed the vote of thanks on behalf of the host company, Tata Motors.