Published on May 11, 2017
Around 55 participants from 22 Tata companies attended the session, which included presentations and an interactive panel discussion with HR experts from Tata companies
Tata Network Forums (TNF) India – East organised a session on the 'Role of HR in Cost Optimisation', which was attended by 55 participants from 22 Tata companies. The session, held on April 12, 2017 at the Golmuri Club in Jamshedpur, included various presentations and an interactive panel discussion with HR experts from companies including Tata Steel, Tata Motors, Tinplate Company of India, TRF, JUSCO, Tata Sponge, Tata Steel Processing and Distribution and Tata Management Training Centre.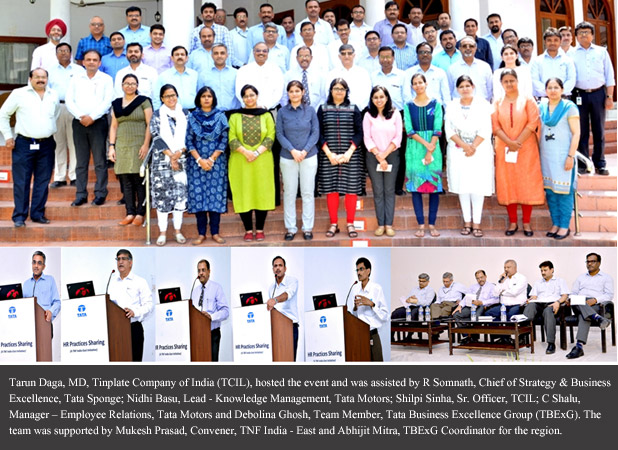 In the opening address, Mr Prasad shared updates about the activities of TNF and its India - East chapter.

Setting the context for the day-long session, Mr Daga shared the steps taken by the 'HR theme' team of TNF India - East. He also elaborated on how cost and competency ran parallel during the growth of organisations.

Up next was Suresh Dutt Tripathi, VP HRM, Tata Steel, who elaborated on how the structure of organisations, its mindset and culture, benchmarking, culture of innovation, and people were fundamental to cost optimisation.

The constant challenge faced by organisations in attracting and retaining talent while maintaining cost optimisation formed the core of the address by Emmanuel David, Director, Tata Management Training Centre. He also talked about the social costs involved in cost optimisation and key areas of optimisation.

This was followed by a presentation by Rama Shankar Singh, Head - Productivity Services, Tata Steel. He talked about the four dimensions of cost optimisation: workforce optimisation, HR service delivery optimisation, HR policy management and productivity enhancement.

Siva Rama Dhulipala, Assistant General Manager, Productivity Services, Tata Motors, then took to the stage for a session on adopting a holistic approach for cost optimisation, internal and external benchmarking, measuring workforce performance, organisational restructuring, efficiency measures, and understanding and identifying the costs attached. He also shared ways to keep employees engaged and enthused about cost optimisation challenges.

A panel discussion involving CHROs and chaired by Mr David was the highlight of the session. Deepak Kamath, Sr. General Manager, Support Services, JUSCO; MH Patel, Chief Business Excellence & Human Resource, TRF; Sanjay Verma, Head, Transition and Special Projects, Tata Motors; Ravi Singh, Head HR & ER, Tata Motors, Jamshedpur; and PK Sahu, General Manager, HR & IR, Tata Steel Processing and Distribution Ltd, formed the panel.

The panel deliberated on 'How to engage employees to take care of challenges of cost optimisation'. the discussion touched upon facets such as flexible workforce, challenges faced during restructuring, reward and recognition programmes, contractor consequence management, etc. Interesting topics such as the measurement of productivity of white collared employees were also discussed. An animated Q&A session – a testament to the success of the panel discussion – marked the end of the discussion.

The highly engaging programme ended with a vote of thanks by Mr Mitra.