Published on June 13, 2018
Following the success of a webinar on risk and compliance conducted by S Balasubramanya (Bala), Chief Enterprise Compliance and Risk Officer, TCS, Tata Network Forums – India South conducted an interactive session on the same subject on May 23, 2018. The session, held at the Bengaluru office of TCS, drew 23 participants from 9 group companies.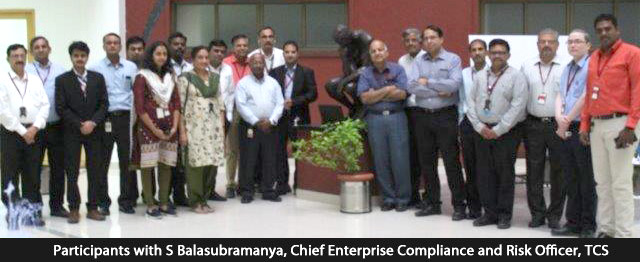 The objective of the session was to explain the importance of compliance as several group companies enter new markets and geographies, and also the associated risks. There was a case presentation on how the enterprise compliance and risk is handled in TCS, which helped the audience understand the subject better.

The session started with Bala analysing the challenges of global regulatory compliances citing global cases such as the Volkswagen emission scandal. He threw light on the impact of failing to meet with regulatory compliance on not just the brand or business, but also on stakeholders such as the suppliers, employees and investors.

During the session, Bala also presented the broad contours of global compliance, highlighting the examples of multiple jurisdictions, corporate functions, industry specific regulations, financial reporting, GDPR needs, employee payroll, POSH, intellectual property, cross border movement of goods/services, and so on. In addition to the probable causes for non-compliance by transnational companies and the need for a comprehensive digital platform, the current situation in TCS was also explained.

The interactive workshop covered all areas of a typical TBEM application – organisational profile through to results, and covered tips on other areas such as abbreviations, acronyms, exhibits and optimal usage of pages while writing an application. The workshop was very well received and evoked appreciation from the participants for its content and usefulness.

Sumant Sood, Convener, Tata Network Forums – India South, gave the vote of thanks, while Sanjeev Singh, TBExG co-ordinator for the region, gave a memento to Bala as a token of appreciation.