Published on August 24, 2018
Tata Network Forum (TNF) India - East, organised a session on Digitalisation on August 24, 2018, at Tata Centre, Kolkata. The event brought together more than 60 Tata executives representing 17 Tata companies. Dr Tapas Chakravarty, Principal Scientist, TCS Research and Innovation, TCS; Suman Sasmal from the Indian Institute of Management, Bangalore; and Abraham Stephanos, MD, Tata Steel Processing and Distribution (TSPDL), were the speakers at this day-long event.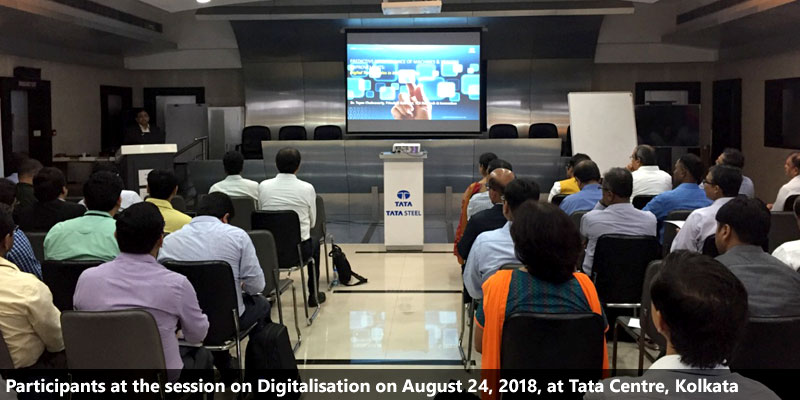 Pankaj Kumar, Convener, TNF India - East, welcomed the delegates with his opening remarks and shared how the TNF is trying to foster a culture of 'One Tata' through these focused meets.
Dr Chakravarty discussed the impact of artificial intelligence on the workforce, while explaining how data brings in new possibilities and is also a driver for change. He highlighted the digital trends in the manufacturing Industry: Internet of Things, Robotic Process Automation, Additive Manufacturing, Advanced Analytics and Cloud & Block Chain.
Mr Stephanos then highlighted the importance of digitisation, stressing on the fact that it is a critical element for every organisation as well as for the leadership team.
The post-lunch session was presented by Mr Sasmal with the theme 'Looking Digital to Thinking Digital'. His session covered how the future of abundant food has been made possible by the digital medium. He discussed how the digital medium works on the first principles of business and enables value creations: Department, Enterprise and Market. Explaining that the distance between revenue generation and value creation is approaching zero, Mr Sasmal also gave examples on how the digital journey depends on 6 Ds — Digitalisation, Deception, Disruption, Dematerialisation, Demonetisation and Democratisation.
The day ended with a very engaging and interactive Q&A session. Monika Agarwal, Chief - Business Excellence, TSPDL, proposed the vote of thanks on behalf of the company.