Published on July 27, 2018
The Tata Network Forum India - West conducted a session on the Tata Affirmative Action Programme (TAAP) to disseminate the success achieved by Tata companies in embedding affirmative action (AA). The session, based on the theme 'How Leaders drive Affirmative Action', was held on July 24, 2018.

T V Narendran, MD and CEO, Tata Steel and R Mukundan, MD, Tata Chemicals, and Chairman, TNF India - West, spoke about the AA programme of their companies.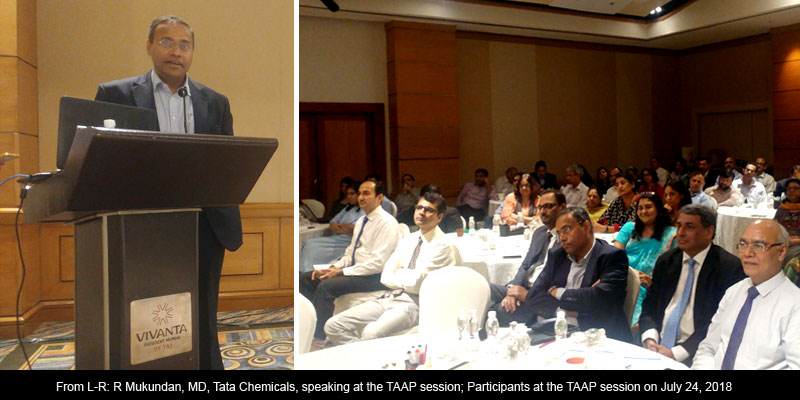 Mr Narendran spoke about Tata Steel's philosophy, role of the leadership and how sustained focus had helped drive AA. Tata Steel has won the TAAP Jury award in Assessments for the sixth consecutive year. Mr Narendran underscored the social context in which Tata Steel operates and the programmes that have been devised basis the social context. He also stressed the factors which had insulated Tata Steel's social commitment from business fluctuations and it's connect with the business value.

He spoke about 'immersion programmes' for the company's leadership, the company's CSR/AA initiatives and the challenges faced and their learning when dealing with the tribal community. Mr Narendran highlighted some AA interventions such as 1000 Schools project, IIT to ITI, skilling initiatives, Samvaad - the tribal conclave, etc.

The session was followed by a panel discussion. Besides Mr Narendran and the CSR team, Debdoot Mohanty, Head (CSR) Jharkhand and New Projects; Capt Amitabh, Head-Skilling; and Dilith Castleton, who superannuated after 30 years in CSR, participated. Vivek Talwar, Advisor TAAP, TBEXG, anchored the discussion. The panellists spoke about their experiences and role in driving the CSR/AA initiative. The discussion was unanimous about the benefits of a top-down approach in implementation of AA.

In the session addressed by Mr Mukundan, he offered insights about Tata Chemicals's success with TAAP. He underscored the fact that Tata Chemicals had a different social context than Tata Steel with very few dalit and tribal community in areas close to its plants or projects. Mr Mukundan revealed how his company ensures inclusion of AA communities in its interventions through diversity and inclusion. He shared how the 'I am Series' was being utilised to instil pride in people working with the underprivileged sections. He also presented some of the signature programmes of the company such as Shiksha Maitree or Badhte Kadam.

The session concluded with S Padmanabhan, Executive Chairman, TBExG and Chairman, Group Affirmative Action Forum, sharing TAAP's roadmap for the future. Underscoring the Tata group's commitment to the cause, he said, the thrust will be on extending the programme to cover more Tata companies in addition to building excellence.