Published on November 05, 2017
Learn from the best, engage with the brilliant and pursue the path of excellence. In keeping with the Tata Business Excellence Group's endeavour to promote adoption of best practices, Learning Missions is an initiative to encourage face-to-face interactions so that companies can learn from thought leaders in the group. The focused face-to-face group sessions, which typically take place over 5-6 days, allow seamless sharing of knowledge and fuel a culture of excellence across group companies.

The Learning Missions initiative centres on select topics across various functions and verticals that can be simulated in other units. The sessions are either company-focused, covering a wide range of topics related to one Tata company, or theme-focused, where representatives from various group companies meet to share good practices on a specific chosen topic.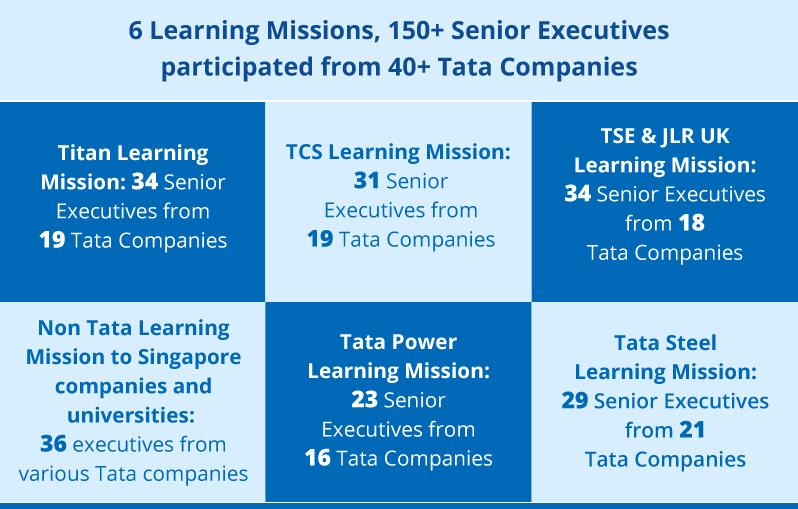 For instance, the Tata Steel Learning Mission drew 29 senior executives from 21 Tata companies, who got a first-hand feel of the best practices at Tata Steel. During the Learning Mission, the executives interacted with people responsible for the best practices at Tata Steel and gained insight on how to effectively implement the changes in their respective companies. Till date, six Learning Missions have been organised, benefitting over 150 senior executives from more than 40 Tata companies across the globe.

TBExG also conducts a smaller version of this initiative through the Mini Learning Missions. These are face-to-face sessions on a more compact basis and are conducted over 2-3 day sessions. Typically, Tata companies that are based in the same regions come together for such sessions.

Learning Missions are a particularly useful for smaller and relatively new companies in the group, who can benefit from the deep-rooted culture of excellence in flagship Tata organisations. Till date, these sessions have had a very positive feedback and deep impact on many Tata companies.

To learn more about the initiative, visit: https://www.tatabex.com/best-practices/learning-missions or contact Devraj Chattaraj at dchattaraj@tata.com