Learning Missions, a part of the Best Practices initiative, were created to have a judicious mix of digital avenues and face-to-face sessions. Learning Missions help in bringing employees face-to-face for learning sessions, which further help in sharing and imbibing best practices. This initiative focuses on extremely relevant and reasonably deployable topics. These sessions typically run for three to five days and cover a range of topics. Some of these sessions fall under the company focused category, where topics related to a Tata company are looked at. The other category is theme-based, where employees from various companies meet to share best practices on a specific topic.

Tata Steel, Titan, Tata Consultancy Services, among others, have conducted Learning Missions, benefitting many senior executives.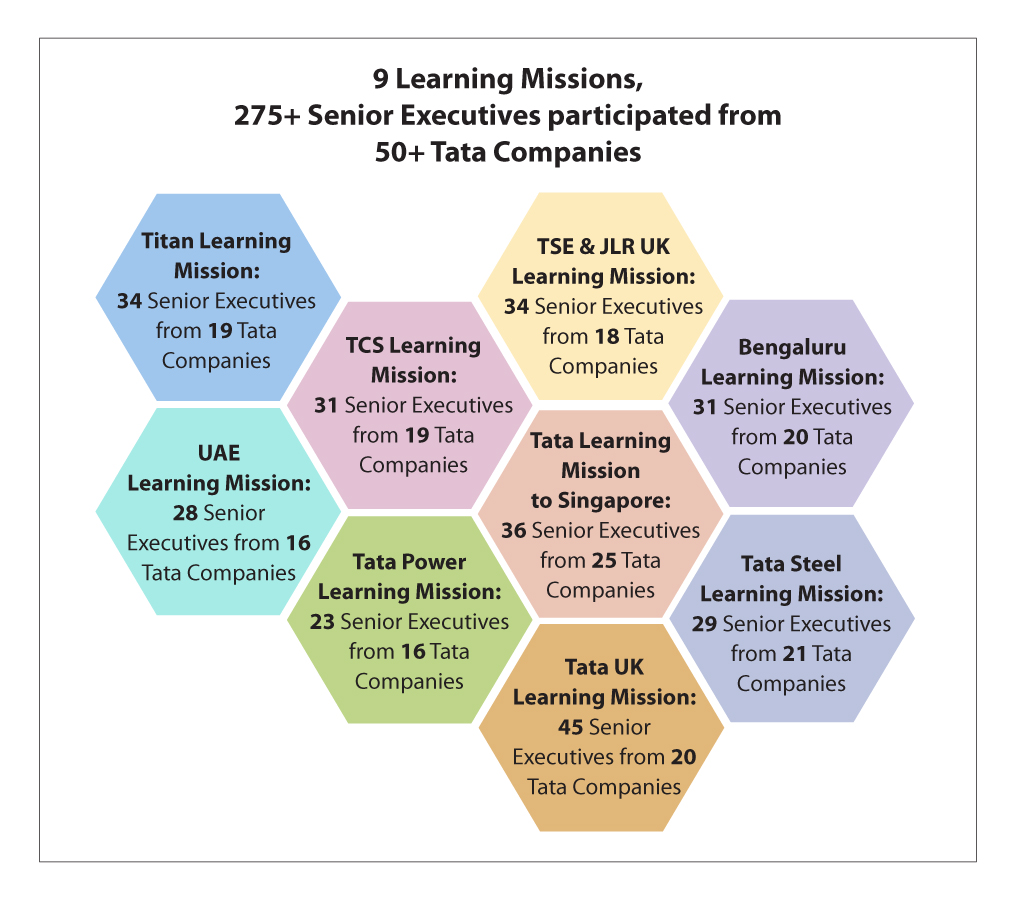 Mini Learning Missions
To ensure that an increasing number of Tata companies benefit from sharing and transfer of knowledge and best practices within the Tata group, the concept of Mini Learning Missions was launched. This is an offshoot of the existing Learning Missions initiative, and was designed to facilitate the dissemination and internalisation of best practices across Tata companies. Mini Learning Missions are held at shorter intervals and are made accessible to more Tata companies.

Tata Power Delhi Distribution (Tata Power-DDL) has organised a Mini Learning Mission on Creating a Performance-Oriented Organisation Through Employee Engagement Initiatives, which witnessed participation from 26 Tata executives across 15 companies. Tata Steel had also conducted a session on Daily Management; 41 Tata Executives from 11 companies had participated. Tata Motors is another group company which has conducted two Mini Learning Missions.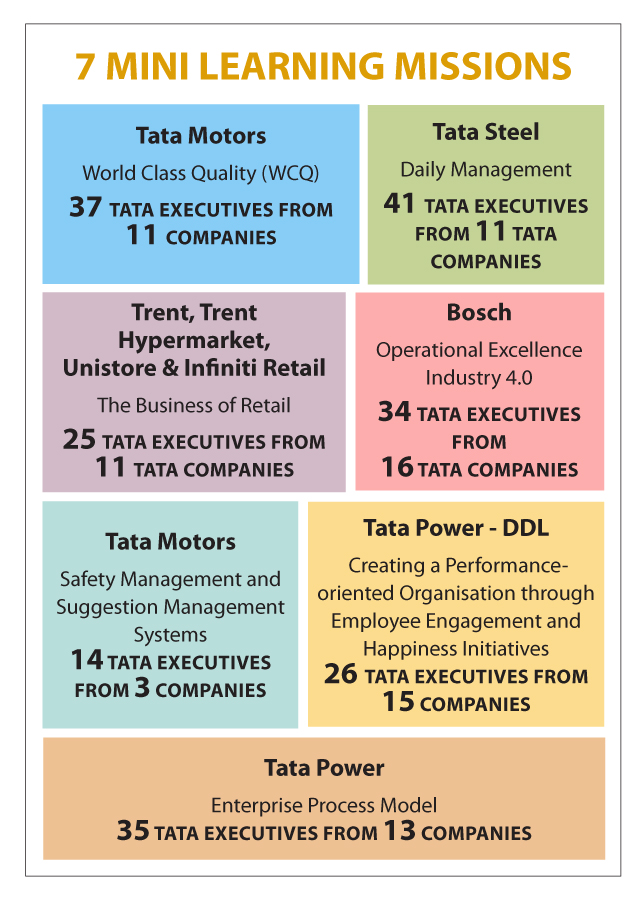 Benchmarking reports
TBExG publishes comparative reports on identified topics, such as safety, innovation, leadership communication, employee engagement and customer engagement by collating the data and information from the TBEM applications of Tata companies. This is done to help companies compare their performance in similar areas. The benchmarking reports are shared through webinars and all participating companies can access these. Till date, numerous benchmarking studies have been completed in the areas of customer, human resources, operations, maintenance and safety.