Published on June 27, 2017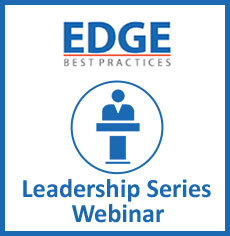 Tata Business Excellence Group (TBExG) conducted the first Leadership Series EDGE webinar on June 21, 2017 with S Padmanabhan, Group Chief Human Resources Offices, Tata Sons.

The Leadership Series of EDGE webinars, which will take place once every month, aims to make Tata employees learn from the experiences of Leaders. It will be a unique and interactive opportunity for Tata employees to not only listen to leaders they admire, but also interact with them and ask questions.

Through the webinar, titled 'Leadership – the Tata way', Mr. Padmanabhan shared his perspective and experiences related to Tata leaders and also discussed how employees can develop into a Tata leader.

During the webinar, Mr. Padmanabhan elaborated on some of the values that Tata leaders live by, including Understanding, Pioneering, Integrity, Excellence, Unity and Responsibility. Citing examples of his interactions with various leaders, he credited the lessons learnt from such experiences for shaping his professional life.

He explained how companies like TCS and Tata Power were pioneers for creating the IT outsourcing industry and putting up a hydro-electric plant respectively, when others could only dream of such concepts. Integrity is an integral part of everyday life for Tata leaders, as they always choose what is right. Mr. Padmanabhan quoted Mr. Ratan Tata, who, during the JRDQV function of 2009, said that the Taj team's dedication in protecting customers during the November 2008 terror attacks was an outstanding example of excellence and dedication.

Mr Padmanabhan also cited examples of companies like Titan who have always shown the value of unity when they worked closely with the goldsmiths in the jewelry industry and enriched their lives. He also spoke about Tata Steel's resolve to be responsible towards the society through CSR activities and maintenance of Jamshedpur has resulted in great harmony.

Mr. Padmanabhan also gave different examples of his interactions with CEOs in the past who had created great organisations by practicing traits of humility, respect, commitment and passion.

He then explained how Tata employees can take up opportunities in the Tata group to become good Tata leaders. Programmes run by Tata Management Training Centre (TMTC); building networks and connecting with people through the TBEM assessment process and Tata Network Forums; experiencing the 'Tataness' by visiting heritage Tata places like Jamshedpur and various company plants; and reading books written on the great institution of Tata – all these are ways in which leadership skills can be developed so that great leaders are created within the Tata group.

At the end, Mr. Padmanabhan stated that the values and principles of the Tata group have helped us build, sustain and grow over the last 150 years, and the same will also help us in the coming 150 years.

The participants got an opportunity to ask many interesting questions to Mr. Padmanabhan at the end of the session.