Published on December 21, 2018
Tata Business Excellence Group (TBExG) conducted a Mini Learning Mission to Tata Power on December 13-14, 2018, on Enterprise Process Model (EPM). The event, which was attended by 35 delegates from 13 Tata companies, was organised to enable group companies learn about Tata Power's EPM processes, and how the company has integrated it with different parts of the organisation.
Tata Power has a diverse business setup, with plants located in different locations across India and a rapidly expanding presence in all segments of the power sector. Almost a decade ago, the company decided to leverage EPM to integrate processes across its divisions in order to have a common approach to work. Based on the American Productivity and Quality Center's (APQC) Process Classification Framework (PCF), Tata Power has classified its processes into three-tiers (L1, L2, L3). For every process, there are reviews, Failure Mode and Effect Analysis (FMEA), customer feedback, performance analysis and audits and the feedback and outcomes from each of these form triggers to drive improvements through various initiatives that includes Daily Management, Process Simplification, Sig sigma, et all. Tata Power has also digitised the entire EPM framework.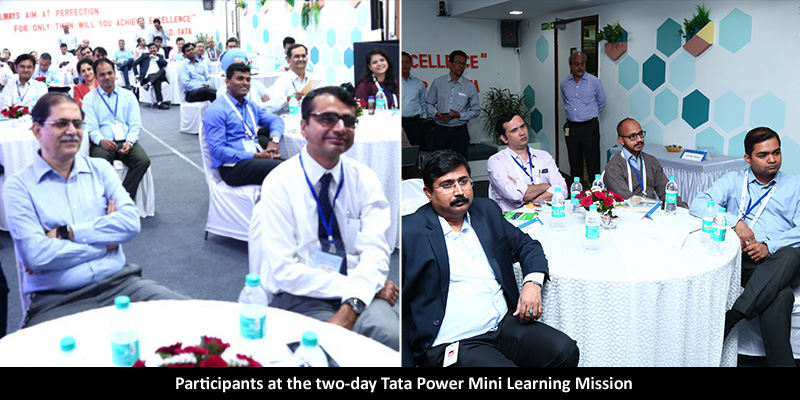 On Day 1 of the Mini Learning Mission at the Trombay Thermal Power Station in Mumbai, the delegates were welcomed by Saurav Chakrabarti, Assistant Vice President, TBExG. Then, Ramesh Subramanyam, CFO, Tata Power, spoke about the origin and evolution of Tata Power and Nikita Kanodia, Head - Continuous Improvement, Tata Power, enlightened everyone on the genesis of EPM – its structure, philosophy, and nuances.
The delegates got an opportunity to see how EPM has been integrated with the entire organisation and deployed across functions in the company through the following sessions:
Aditya Gupta, Chief - Strategy & Planning, New Business Collaboration, Tata Power: Integration of EPM with Balanced Score Card
Subir Verma, Head - Business HR, Tata Power: Alignment and Integration of EPM to KRAs
Parshuram Date, Chief - Internal Auditor & Risk Officer, Tata Power: Integration of EPM with Audit and Risk Management
Shalini Singh, Chief - Corporate Communication & Sustainability, Tata Power: Demonstration of EPM in Corporate Communications
V Shrikhande, Chief - Distribution Supply Management Group Corporate Operations, Tata Power: How EPM has Helped in Customer Services
In between these sessions, the participants interacted with Praveer Sinha, MD & CEO, Tata Power, and S Padmanabhan, Executive Chairman, TBExG over a video conference call. In his address, Mr Sinha emphasised on the importance of EPM, especially when the organisation is spread across locations and needs to deliver with limited resources. Mr Padmanabhan spoke about every company's need of having a customer-centric approach in all its processes.
The day ended with a guided tour of the Trombay Thermal Power Station demonstrating the use of EPM processes in some critical operations of the plant.
On Day 2, delegates were welcomed to the Khopoli Hydro Power Station by Ashwini Patil, Chief - Hydros, Tata Power, who demonstrated the use of EPM in the hydro division. There was also a talk on how Tata Power uses EPM in Transmission by Mayuresh Deodhar, Head - Transmission Lines, and for Driving Improvements by Rashmikant - Business Excellence Head from the company. Delegates were then taken on a guided tour to Khopoli Control Room and a heritage walk to the 72MW Khopoli Power Plant, during which they came across a 'Time Capsule' placed by Chief Minister of Maharashtra, as part of the centenary celebrations of Tata Power. The capsule contains the vision which Tata Power employees have for the organisation and will be opened in 2040 to see how far the organisation has lived up to its expectations.
The day concluded with a bio diversity visit to the Walwhan dam, where Vivek Vishwas Rao, Head - Biodiversity, Tata Power, took the delegates through the company's four-decade long effort to conserve natural resources in and around 36,000 acres of the Walwhan area.
Following the event, many delegates gave a positive feedback on their Tata Learning Mission experience, indicating that they found the event extremely useful and will look forward to apply the learning in their own organisation.
Participant Speak
"Through this Learning Mission, I learnt how EPM is implemented in spirit rather than in letter. Users of EPM walked us through it which made it come alive for the participants. Tata Power accorded us hospitality which was probably at par with Taj Hotels. Whichever session we attended, I found that everyone speaks the EPM language, which is like a dream from a BE team perspective. No organisation breathes process the way it does at Tata Power."
— Monika Agarwal, Chief – Business Excellence, TSPDL
"Till yesterday I believed that EPM is a living object – You eat, drink and breathe EPM and in ten years become like Tata Power. EPM is a way of life in this company. Seeing the heritage walls and decommissioned power plant at Khopoli instilled a feeling of pride and belonging to the Tata Group"
— Jitendra Jadhwani, Head – Business Excellence & CISO, TMFL
"I have come across many companies which have EPM documents. But the way users at Tata Power said that this is my process, and this is the impact that it has created, was simply unbelievable. Even for perception-based processes like internal audit and communications, I could see measures here, which is a learning. Waiting to go back to my company and say that we need to do this as soon as possible."
— Megha Kaul, DGM – Corporate Strategy and Business Excellence, Tata AutoComp