Published on February 19, 2023
Tata Motors is upgrading existing practices around knowledge management, digital excellence and Innovation (culture, problem-solving tools, monetisation of IPRs and use of customer insights). In this respect, it wanted to closely understand processes in both Tata and non-Tata companies.
To support Tata Motors in its improvement endeavours, Tata Business Excellence Group (TBExG) facilitated a four-day (February 6-9, 2023) learning visit to Tata Elxsi, Titan, BOSCH, 3M and Bengaluru International Airport (BIAL). This learning visit was led by a seven-member delegation led by Sanjay Daflapurkar, Corporate Head - Performance Excellence, Tata Motors; and Deepak Deshpande, Vice President & Head HR Practices, TBExG. A snapshot of these four-day visits to companies is as follows:
February 6, 2023: Tata Elxsi
Visit to Tata Elxsi's Experience Centre to get a bird's eye view of the company's capabilities ranging from consumer research to product prototyping
Understanding Tata Elxsi's knowledge management framework, KM initiatives and governance structure
February 7, 2023: Titan Company
Innovation and research: Innovation lifecycle/enablers of innovation with results & KPIs, innovation strategy and 25 innovation tools, open innovation platforms, academic partnerships, joint IPs with academia, Kaizen Mela, innovation champions meet, innovation summits and competency building on innovation
Knowledge management and digital excellence: Common back-end for all apps, digital transformation, NEEV platform and inter-store purchase incentive structure
HR - Swadesh/Priya M/GD: Tell me conversations, talent management/campus connect, use of hackathons, creating talent magnets, HI-Pots identification and fourtier leadership development programme
Titan Engineering and Automation (TEAL): Platinum supplier journey for aerospace and defence, 6S and visual factory
Design excellence: Create products driven by consumer insights
Customer relationship management: Use of sales force and customer 360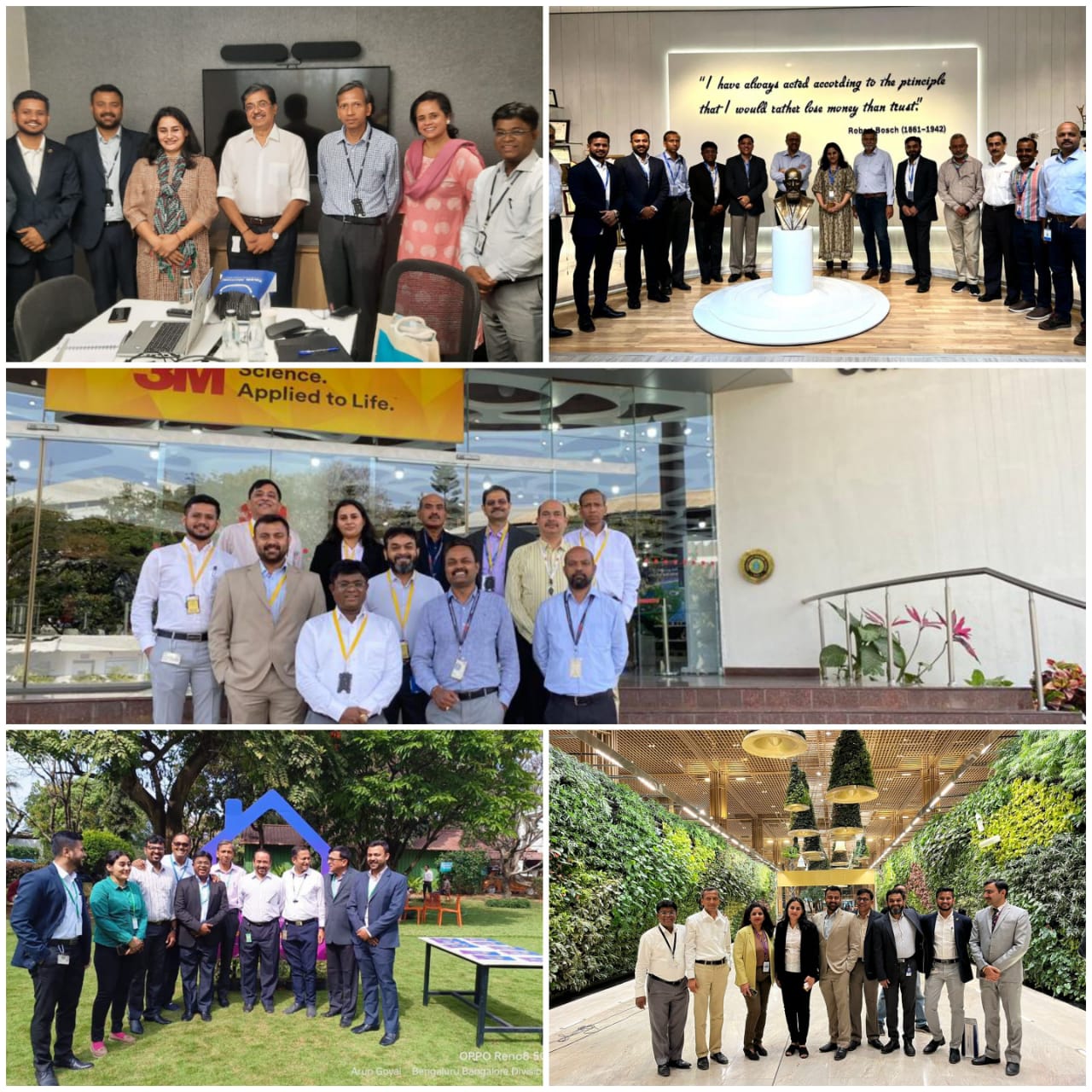 February 8, 2023: BOSCH
Leadership talks and BOSCH Spark.NXT. campus tour
Building digital mindset (Digital - Fluence 2.0), BOSCH production system, innovation culture building, knowledge management, employee value proposition
Visit to BOSCH PCB Plant and BOSCH Learning Center and BOSCH Competency Model
February 9, 2023: 3M & Bengaluru International Airport
3M
Sustainability focus: Integrated with innovation framework and NPD, innovation culture
NPI: Stage gate process, innovation metrics and KM
BIAL
Use of sustainability elements in airport design and innovation-centric approach towards enhancing customer experience
The visit also paved the way for the companies to learn and exchange practices mutually. Tata Motors will use the learnings from the visit to initiate the next level of discussions with the respective companies and drive improvements.
Participant Speak
The learning mission to Bangalore-based companies to embark on benchmarking has provided immense value. It was a humble experience where all companies willingly shared their 'promising practices' and answered our questions in detail. The next step will be to connect Tata Motors' process owners to process owners from Tata Elxsi, Titan, BOSCH, 3M and BIAL for effectively deploying the learning.
— Sanjay Daflapurkar, Corporate Head - Performance Excellence, Tata Motors