Published on September 27, 2017
Tata Business Excellence Group (TBExG) organised a two-day mini learning session on September 19 and 20, 2017, for Tata Power Delhi Distribution (Tata Power-DDL) in Delhi. The session was called Creating a Performance-oriented Organisation through Employee Engagement and Happiness Initiatives. Twenty-six Tata colleagues from 15 companies participated in the programme. The session started with a welcome note and introduction by Sushil Kumar Srivastava, Chief - Human Resources and Administration, followed by an overview of Tata Power-DDL by Ajit Maleyvar, Head, Business Excellence and CQH.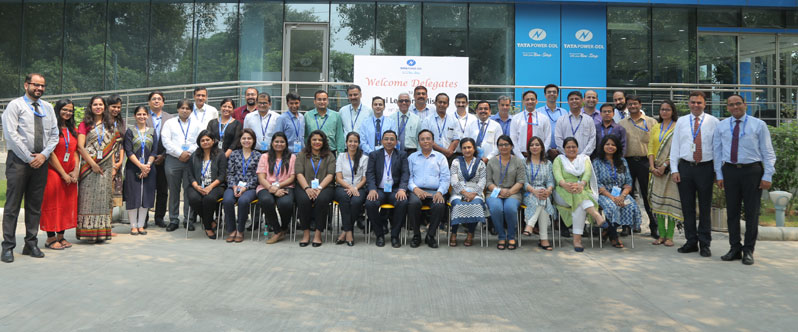 The two day sessions were a combination of classroom modules on some of the people practices in HR, L&D, Employee Communication & Business Excellence, and interaction sessions with Line Managers on implementation of these people practices in their respective areas. In the classroom sessions, the process owners took the participants through the employee engagement assessment framework and the processes being used in Tata Power-DDL; communication and action planning post the assessment; various approaches towards talent management, employee communication - internal communication methodologies, grievance handling forums; L&D – TNI, methodology, innovative learning solutions, etc. The participants had also got a chance to visit the VT Centre at Pitampura, Smart Grid Lab and Scada Centre to understand the social innovation and latest technologies being used in power distribution. In addition, they could get an insight into some of the events such as Youth Power Confluence, Power Bytes, and Power Journos through this module.

The participants' feedback was very encouraging, and they expressed their intent to recommend the programme to their colleagues. Moreover, several expressed interest in connecting with the Tata Power-DDL team to better understand the implementation of various employee engagement-related initiatives.

Voice of participants
"Thanks to Tata Power-DDL and TBExG for this very fulfilling learning experience."

— Malini Sengupta, TM International Logistics

"Thanks to TBExG, without you people we would have never had such a great learning experience. Thank you, Tata Power-DDL, your enthusiasm and openness has given us a lot of motivation and desire to do something beyond what we are doing."

— Shobha Das, Tata Sponge Iron

"When I was reflecting on everything we heard from Praveen, Bharat, Ajit and the conclusive note of Sushil sir, it astoundingly reassures 'hope' that we can transform despite any impediment. Heartfelt thanks to the entire team of Tata Power-DDL to have accepted hosting all of us on a learning mission. A special note of gratitude for TBExG, Devraj Chattaraj, for making this happen for all of us and to Bilal for his relentless way of connecting!"

— Lakshmi Krupa Jeyaganesh, Tata Coffee


The genesis of learning missions
TBExG facilitates knowledge transfer and learning dissemination across the Tata group with a view to help group companies achieve operational improvement and overall business excellence. To accomplish this goal of empowering Tata employees to learn and share knowledge, TBExG has developed one of the most advanced digital platform EDGE, which promotes best practices sharing within the Tata group. TBExG has come up with the Learning Missions to have a judicious mix of digital avenues as well as face-to-face sessions. The initiative helps employees from different group companies to interact closely with each other through a face-to-face process that makes it simpler to internalise learnings and imbibe best practices. The initiative focuses on a few important but reasonably deployable topics across various functions and verticals.