Published on September 26, 2017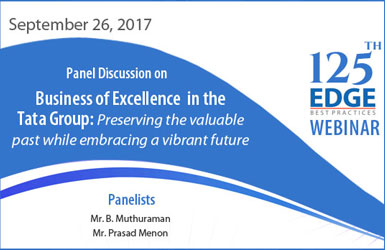 September 26, 2017 was a special day for the best practices journey within the Tata group. Tata Business Excellence Group (TBExG) conducted the 125th EDGE webinar on this day, with a panel discussion between Mr. B Muthuraman, former Vice Chairman and MD, Tata Steel and Mr. Prasad Menon, former MD, Tata Chemicals and Tata Power. Both are pioneers of the business excellence journey in the group, and were deeply involved in the TBEM assessment process as the heads of their respective companies, as well as Mentors guiding the assessment teams over the years. The exciting session was moderated by Mr. S Padmanabhan, Group CHRO, Tata Sons. More than 400 employees from across the Tata group joined the webinar from across the world.

Mr. Padmanabhan opened the session by introducing the panellists to the participants, and thanking them for gracing the special 125th webinar milestone. He also thanked Tata employees due to whose contributions these many webinars were possible.

He then started the panel discussion by asking the first question to Mr. Muthuraman, asking him to describe the history of TBEM movement in the Tata Group and how it all started. In his answer, Mr. Muthuraman elaborated, "JRDQV came into existence due to Mr. Ratan Tata's wish to commemorate JRD Tata's legacy and his drive for excellence. In the case of Tata Steel, TBEM not only helped it emerge from a tough market scenario in the 1990s, but also enabled it to transform itself and win the JRDQV award a decade later. Today, it has also undertaken the Deming model and continues its excellence journey even today."
The next question for Mr. Menon was on how the TBEM movement has helped our companies, and what are some of its significant contributions. He explained it simply and beautifully, "TBEM has in essence brought people together. It has helped in changing the behaviour within companies and improved the culture. The amalgamation of improvements in the culture and processes across companies has moved the Tata group forward."

On a question regarding his experience with mentorship in the TBEM process, Mr. Muthuraman explained, "There are two dimensions to being a mentor: listening & absorbing, and sharing experiences with the company being mentored. For TBEM to have a company-wide impact, the MD/CEO of the company needs to drive it so that it becomes the DNA of the company. The company also needs to constantly engage with the TBEM process, even in a difficult business scenario."

Mr. Padmanabhan then asked Mr. Menon to delve into his experience of winning the JRDQV award as the MD of Tata Power. Answering this, Mr. Menon said that winning the coveted award was not an easy task, and required the whole company to unite as one to work towards the same goal. "we talked about the competitive scenario for Tata Power and asked ourselves what kind of processes should we put in? We then learnt about the required processes from other companies and then put them in place. This is how we brought about improvements slowly, but surely," he added.

The next question, for Mr. Muthuraman, was about how Tata employees have benefitted from the TBEM process. Answering this, he responded, "The TBEM process promotes systematic thinking; makes the organisation a learning organisation; encourages constant benchmarking with local and international peers; and overall, it is the best leadership development programme for Tata employees."

Looking towards the future, Mr. Padmanabhan asked Mr. Menon how the Tata group can derive more from the TBEM process. Mr. Menon opined that for the business excellence journey to sustain in the foreseeable future, it must attract armies of assessors who can bring their own expertise into the process. "We need to ask ourselves how do we ensure that youngsters will be willing to become assessors? How do we encourage people to join the movement and make it more exciting for today's professionals – that will be the key to achieve the maximum out of TBEM."

The webinar came to a close with some interesting questions from the participants, including topics which ranged from how the TBEM framework has constantly evolved to include important aspects like big data, digital, etc.; balancing processes and innovation; long term value creation and adoption of other models like Deming.