Published on June 01, 2017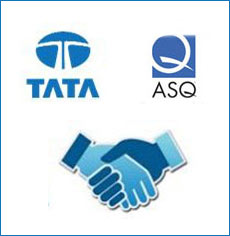 The Tata group's partnership with American Society for Quality (ASQ), the world leader in the field of quality education and certification, allows Tata employees to drive business excellence and accelerate growth through learning and continuous improvement.
In addition to electronic access to all forums and divisions, ASQ's enterprise membership allows Tata employees to access content on the ASQ website (www.asq.org), which is a treasure-trove of knowledge, and a free subscription to its e-newsletter. The ASQ membership also empowers Tata employees with resources needed to concentrate on product, service and experiential quality for powerful top-line and bottom-line results.
The Tata-ASQ engagement
The Tata group's engagement with ASQ has been extensive since it became an enterprise member. . From webinars and customised training programmes to participation in the annual ASQ Conference, the collaboration occurred on multiple levels in FY 2016-17.
As a corollary of the group's association with ASQ, the number of Tata employees registering with the society has witnessed a 65 percent increase in FY 2016-17. Employees from Tata Technologies, Tata Teleservices, Tata Communications, Tata Power, Tata Housing, Tata Chemicals, TCS etc. were among those who registered as a member , with about 40 percent comprising employees from Tata Motors, TCS and Tata Steel.
There has been a commensurate increase in the participation of Tata employees at ASQ's public programmes. Four senior Tata employees figured among the eminent speakers at the first South Asia Conference in New Delhi in December 2016, while 25 Tata employees representing 7 group companies participated in the event. Five Tata companies: Tata Housing, Tata Steel, Tata Capital, Tata Metaliks and Tinplate Company, sponsored the event.
Four webinar series, two each on Global ITEA Criteria Understanding and ASQ Membership Benefits, were also organised during the period. Besides the webinars, group companies like Tata Coffee, Tata Power and Tata Teleservices are also in dialogue with the society for programmes like Six Sigma certification, online training and live technical webinars.
The group also figured prominently in the ASQ's Team Excellence Competition with five projects from two group companies (Tata Steel and Tata Power Delhi Distribution) competing for the honours. Tata Steel was placed second for its LP Planning project.
The South Asia Team Excellence Awards (SATEA) organised by ASQ provides every Indian company a chance to be awarded on a global platform for their achievements in improving business performance. The first SATEA held in 2016 saw companies from manufacturing and service industries showcase their quality improvement journey. The second SATEA will be held on November 30, 2017, at New Delhi. The details are available here.
Have you participated yet?
Do you wish to access the ASQ knowledge bank or attend workshops by experts? Have you accessed the best practices and white papers available on the ASQ website yet?
Become a member of ASQ today to take advantage of this unique opportunity. Click here to learn how to login to ASQ and access the site. For any additional information, please write to Devraj Chattaraj at dchattaraj@tata.com.