Published on April 15, 2019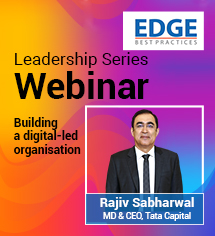 The digital revolution is poised to disrupt business dynamics and most sectors, including organised retail, hospitality and entertainment are already benefitting from it. The financial services sector is next in line to embrace this change. To discuss this, and more on the subject, Rajiv Sabharwal, MD & CEO of Tata Capital conducted the Leadership Series Edge Webinar in April 10, 2019, titled 'Building a digital-led organisation'. During the session, Mr. Sabharwal threw light on how the sector's landscape would change and the company's plans for the same.

Some insights from this session were:

A business boon
The digital marketplace has provided an opportunity to entities like Tata Capital that do not have a vast brick-and-mortar network. Business can now be scaled up without investing in the expansion of physical infrastructure. Tata Capital plans to leverage the fact that currently approximately 70% of potential customers and 25% of actual buyers execute some part of their purchase activity in the online space. This change has come about due to reduced data and mobile handset costs along with relaxed regulations.

Better decision-making
Traditionally, many decisions, especially lending ones, were based on physical data like financial statements and physical confirmation. Going forward, this may happen based on alternative data collated from the prospective borrower's online footprints. Data obtained from online transactions and payments history would lead to better credit decisions and more importantly, allow entities to leverage their customer databases. Google and Samsung, for instance, have entered the online wallet space and seem to have a keen interest in the payments bank space. The emphasis is shifting, from bringing in more customers, to bringing in more from the same customers.

Emphasis on building relationships
Companies are increasingly attempting to tap into their customer relationships and offering differentiated services through partnerships with entities having requisite expertise. An example is mobile handset companies offering easy credit to customers. Apple, for instance, has launched a digital credit card in the US by partnering with Goldman Sachs.

Tata Capital is exploring maximisation of customer relationships by connecting its life insurance and general insurance platforms with the mutual fund and lending platforms. If that fructifies, the company may be able to expand this integrated ecosystem to offer the customer gaming interfaces, movie tickets, online trading, and merchandise shopping and much more. This way, the company can capture a much larger share of customer transactions and improve its ability to offer more products in the financial services space.

Future-proofing the business
The future belongs to a technology-driven and digital-based business model. This requires Tata Capital to have:
A well-defined business strategy outlining the business segments, the product offerings, and a plan to increase coverage using digital platforms. The moot question is whether to be a first mover who disrupts or a fast follower who joins later but plays better.
A robust leadership and organisation structure which encourages a digital approach in all the functions rather than one that deploys technology on a project mode.
A culture where the technology-first mindset percolates deep within the organisation.
Technology architecture in alignment with the digital front-end interface; enabling development of data and analytics capabilities, and sustaining and consistently evolving the same.
Talent acquisition and retention framework which also aids in the development of the required skill sets across the organisation.
An operating model that integrates the physical and digital seamlessly; providing the customer with a comfortable end-to-end experience.
A defined sequence of the journey towards transforming into a digital organisation, complete with the forecasted speed of movement between phases, and the success metrics for the same.