Published on July 13, 2022
Warehousing is an integral element in the order fulfilment value chain of companies. Warehousing activities is increasingly getting complex with increasing number of SKUs being stored, increase in fire load on account of newer products such as batteries, chemicals, electronics good and combustible packaging. A major incident at a warehouse could potentially lead to loss of life or major injuries, disruption in supply chain, impact on customer service level, reputational damage, and lead to financial implications as well.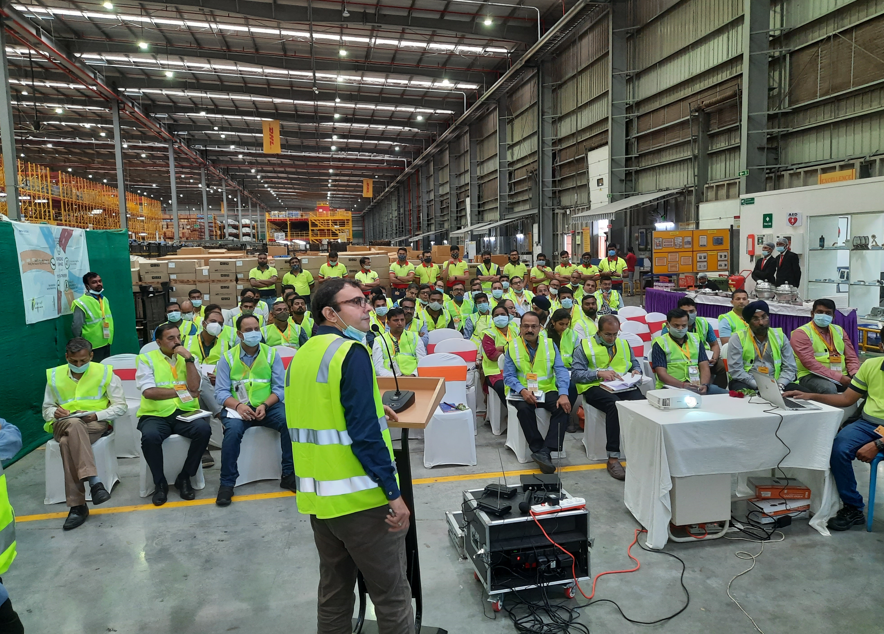 To address the above concerns and to understand best practices in Warehouse Safety, TBExG organised a learning visit at Tata Motors spare parts warehouse in Chakan, Pune, on July 13, 2022. This learning visit witnessed active participation of 58 participants from 25 Tata companies.
The learning visit was planned and executed through a joint effort between the Group Safety & Health team and Best Practices team.
Topics covered in the visit included
Regulatory Compliances
Fire Prevention
Prevention of Electrical Shock Hazards
Material Handling Practices
The focus was on practical best practices such as use of cameras on forks of forklifts while placing loads on higher racks to improve visibility and prevent accidents. The other examples included conducting an arc flash assessment, electrical shock risk assessment, thermography and Lock Out Tag Out on electrical panels and training employees and contractors on it. Subject matter experts at the site explained and addressed all technical queries during the learning visit. The visit was well appreciated by all participants.