Published on November 08, 2018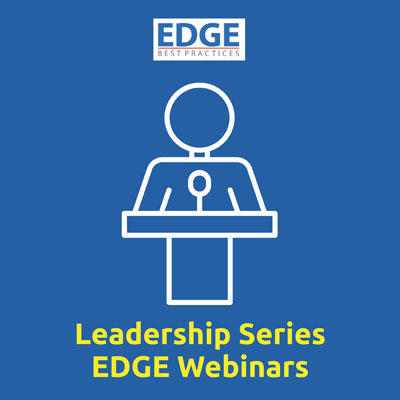 Employees across the Tata group have used the medium of the Leadership Series EDGE Webinars to learn leadership lessons and best practices from the top brass of Tata companies. Since the launch of its first Leadership Series EDGE webinar in FY 2017-18, Tata Business Excellence Group (TBExG) has facilitated 15 such webinars, with top leaders having interacted with 3500+ participants within Tata companies.
Their Significance
The Leadership Series EDGE webinars are conducted once a month and are presided over by a CEO or MD of a Tata company, who engages the participants in a discussion on leadership practices. During these webinars, participants not only learn more about the experiences of such leaders but also interact with them through a Q&A session. Topics such as the Tata leadership, continuous learning, building business, building a start-up within the Tata group, and transformation journeys of group companies have drawn keen interest and participation from Tata employees.

Face-to-face opportunities for meeting these senior leaders generally do not arise in the normal course of business, and this is where these webinars play a significant role in establishing the connect.

Their Performance
The pull generated by Tata company leaders translates into the enthusiastic participation of employees across levels and group companies, and stands as a testimony to the immense appeal and value that these webinars hold. With the likes of T V Narendran (MD & CEO, Tata Steel Limited), Guenter Butschek (MD & CEO, Tata Motors), Vinayak Deshpande (MD, Tata Projects), Sandeep Kumar (MD, Tata Metaliks), Dinesh Shastri (MD, Tata NYK), V Shankar (MD & CEO – Rallis), Abraham Stephanos (MD, TSPDL), and many other leaders steering these absorbing sessions, these webinars enjoy an average Net Promotor Score (NPS) of +68.5 and each webinar on an average registers 230+ participants from 30+ group companies.

Feedback
The webinars have inspired a positive response, both from CEOs as well as participants.

From the CEO: "Each of these sessions also helps me learn from reflection and preparation. Enjoyed the same and appreciate the support from you and your team as well." – T V Narendran, Tata Steel

"Thank you for the opportunity today to present at the Leadership Webinar today.
It was great learning for me." – Siva Ganesan, TCS

From employees: "It was a wonderful session. Learning is eternal. We have seen this in its true spirit in many Tata companies...like Tata Motors, Tata Steel across the group and community learning has been the hallmark of such collective initiatives raising the bar of learning…perhaps there is a learning for all of us…collectively on this..."

About Tata Best Practices Programme
The Tata Best Practices Programme, part of the Business Excellence movement, is a group-wide initiative that facilitates sharing, adopting, and improving from best practices within and outside the group. It is a multi-dimensional programme comprising several components and layers, including webinars, EDGE best practices sharing portal, Learning Missions, benchmarking initiatives, face-to-face connects, and many more. As part of this programme, the Tata Group has also partnered with global organisations like American Society for Quality (ASQ), a world leader in the field of quality education and certification; and American Productivity and Quality Center (APQC), a global authority in benchmarking, best practices, process and performance improvement and knowledge management.