Published on February 26, 2019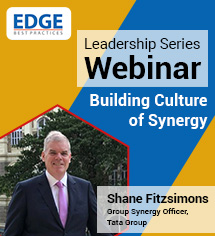 Shane Fitzsimons, Group Synergy Officer, Tata Sons, has the challenging but exciting task of leveraging the potential synergies that exist in the group companies. In a Leadership Series EDGE webinar titled 'Building a Culture of Synergy', he shared the purpose of the group synergy centre, opportunities, success stories and the way forward to creating a culture of enhanced synergy.
Need for a Synergy Centre
Synergy is a combination of two or more entities or capabilities to achieve results that are greater than the sum of their parts. As a spearhead for synergy within the Tata group, Mr Fitzsimons' mandate is to explore ways and means to optimise the interdependencies and common processes of group companies to unlock growth benefits.
Mr Fitzsimons highlighted that the next level of growth for a global conglomerate like Tata Sons lies in opportunities for scaling up capabilities, which come interlocked with the complexities of size. For Tata Sons, the Synergy Vision is to optimise performance, leverage internal and external synergies as well as the large operating network of the group.
Mr Fitzsimons believes that the Tata group is positioned to deliver synergies within the companies and across the group. There are capabilities, deep domain expertise and well thought-out ideas within the companies. The challenge lies in operationalising the ideas through sharing of infrastructure and services.
The Compass
The task of the Synergy team is to improve revenues, grow faster than the GDP of the countries that the group is operating in, improve CSR outcomes and achieve best-in-class margins. According to Mr Fitzsimons, the Synergy team has identified three focus areas: process, cost structure and growth for doing this.
The Ground Reality
During the webinar, Mr Fitzsimons elaborated on some learnings that have come about from studying the current operational framework. An instance is the current travel process replicated across various group companies, which entails that the vendors for travel and accommodation bill directly to the companies. This accounts for almost 40 percent of accounts payable transactions within Tata Sons and Services. A process alignment facilitating unified payments and administration could potentially result in savings in administrative expenses.
Mr Fitzsimons also said that Information Technology is another area that can benefit from potential restructuring. IT accounts for an annual expense of about 2.4 billion dollars, including labour. Based on benchmarking and analysis, the Synergy team believes that approximately $200 to 400 million can be saved by working in a unified manner. Additional benefits are the time and capacities freed up of the average CIO in the group, who is otherwise caught up with fire fighting. It can then be invested productively in digital innovation.
One Tata Operating Network (OTON)
Highlighting OTON as a potential game changer, Mr Fitzsimons explained that OTON's core objective would be to deliver outcomes through a culture of working together and leveraging connections.
OTON can be better understood by dividing the Tata group into two major categories:
Ten listed companies with total revenue of $90 billion — Companies like Tata Motors, Tata Steel and TCS, etc.
Sixteen unlisted companies with total revenue of $10 billion — Companies in clusters like financial services, infrastructure, etc.
The intersection of these two groups is where OTON would play a significant role.
To achieve its objective, OTON will focus on five operational clusters which are further sub-divided into 12 initial tracks. The five clusters are:
Group capabilities including tax and treasury
Functional threads which are about support functions delivering significant benefits to the group; for instance, IT working on One IT or HR working on talent management
Enterprise standards which are about developing optimal group-level policy processes
Shared services that deal with common activities ranging from transactional and administrative lower-end activities to more value-added initiatives
Synergy projects which are areas of collaboration and cooperation to deliver growth or cost efficiencies
Mr Fitzsimons ended the webinar by mentioning that the future roadmap of the Synergy team revolves around OTON, and the team is currently working on crystallising it as a business plan for FY 2019-20.