Published on August 09, 2019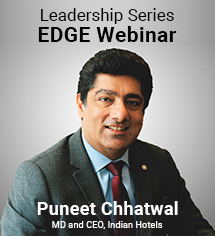 In 2017, Puneet Chhatwal joined the group as Managing Director of Indian Hotels Company Limited (IHCL). Since then, he has embarked on a mission to transform IHCL into the most iconic and profitable hospitality company in South Asia. Mr Chhatwal shared the details of the hotel chain's incredible transformation journey in the Leadership Series EDGE Webinar held on August 07, 2019. We present key highlights from the insightful session.
IHCL Aspiration 2022
IHCL aspires to become South Asia's most profitable and iconic hospitability company by 2022. For investors, it means an eight percent increase in EBIDTA (Earnings Before Interest, Taxes, Depreciation and Amortisation). It was a clearly defined vision — time-bound, measurable and unambiguous. To achieve this goal, the company had to reimagine the future which, in turn, meant three things; expansion of the portfolio, development of a culture of excellence, and most importantly, managing the large brand bouquet of IHCL.
Sprucing up the brand package
Although IHCL is synonymous with the Taj group of hotels, it has a bouquet of various other brands. In order to tap into the massive potential of its other brands, IHCL needed to restructure its brand portfolio. In Mr Chhatwal's own words, "We needed to go from a 'branded house' to a 'house of brands'".
Accordingly, dormant brands were revived to activate their potential. The strategy included removing the association of the Taj group's brand name with some of these brands as it was diluting the Taj brand value and not adding to the brand's inherent strengths.
Also, it was essential to improve each brand's competitive advantage through operational efficiency and strategic positioning. Operational efficiency can only accrue from a positive equation between the ability to charge for the service offering and cost of servicing the customer. Strategic positioning was about the appropriate placement of the brand in a commercial space to enable its easy identification by target customers. Ginger was one of the brands to be repositioned to make it more relevant.
Ideals to support the strategy
A shift in an organisation's approach and outlook can only be possible when employees support the endeavour. A winning culture had to be institutionalised in IHCL by instilling the spirit of collaboration and the will to achieve excellence and success through performance.
Through regular communication to all employees, the culture of Tajness embodied through the acronym TAJ — Trust, Awareness and Joy; was communicated to all employees. Besides, quarterly strategy meetings were organised for the top 35 leaders in the company.
Striking alliances within the Tata ecosystem
Within the Tata group, companies have guest houses and residential properties, which often lie vacant. IHCL decided to monetise these dormant facilities under its newly-launched Ama Trails & Stays label. The first venture was Ama Plantation Trails which let out the residential dwellings at the Tata Coffee plantations to guests. Similar liaisons with other Tata group companies are on the anvil; to lease out their vacant properties and capitalise on the potential synergies that exist within the Tata ecosystem. It is a new value proposition from IHCL; one that generates returns without additional investment, and forges a win-win equation with other group companies.
Innovation is the key
The same service, if branded differently, can result in bigger gains. An excellent example is the Taj salon business which was rebranded as Niu and Nau and launched at the Taj Lands End recently. A refreshingly different outlook in terms of appearance, presentation, and providing a new salon experience to customers has worked wonders with sales having trebled.
The changed operational philosophy and commercial outlook have resulted in rich dividends for IHCL. From a negative PAT (Profit After Tax) of Rs. 63 crore in FY 2016-17, IHCL ended FY 2018-19 with a PAT of Rs. 287 crore. With its clear and concise roadmap, the hotel chain is now on course to achieving its goals.
The Leadership Series EDGE Webinar culminated in a stimulating Q&A session which saw Mr Chhatwal answering some interesting questions.