Published on March 28, 2019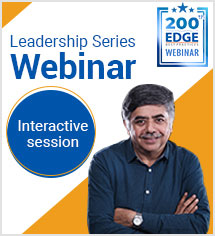 It was a special day when Bhaskar Bhat, Managing Director, Titan Company, joined EDGE webinar participants on March 27, 2019: it marked the 200th EDGE webinar. Tata Business Excellence Group (TBExG) started this journey in 2014, and has been able to proliferate various best practices amongst Tata employees through this medium. In an interactive session, Mr Bhat answered questions posed by S Padmanabhan, Executive Chairman, TBExG, on topics including the famed Titan culture, his leadership principles, the company's unique bond with its communities and its TBEM journey. Below are some excerpts from the webinar.

What is the Titan culture built upon?
Openness and transparency are the key attributes of the culture at Titan. Openness ensures that there is approachability, and transparency means that we can win the trust of customers. We have also strived to make Titan an institution which generates a sense of belonging in the people who work for it, in addition to creating value for its stakeholders. People have a pride of belonging, which continues to drive performance.

How did you blend being a people's leader and delivering consistently good financial results?
Everything we do at Titan is about value creation combined with customer centricity – both these aspects are very important. In addition, we have tried to establish a culture that inspires performance rather than supervises it. We started by dreaming about a shared future and making a collective effort towards fulfilling it. The idea of creating value and sharing it generated a collective thrust and inspired the team to achieve, at times, improbable goals.

Can you elaborate on Titan's unique practice of 'democratisation of aspirations'?
In India, the young population is increasing, and they are aspiring for a better future. We asked ourselves, can we make them (our employees) aspire for the company? 'Democratisation of aspirations' refers to the fact htat everyone has the right to aspire for the institution they belong to. If you create the right environment for empowerment, you can achieve infinite growth. We started in 2004 by launching 'Future Shop 0910' where people could identify Titan's business position in five years and create a roadmap and business plan to reach there. Many of the new businesses, including the latest, the saree business, have been created on the basis of such ideas.

Titan has also been very engaged and committed to the communities it works in. Can you tell us about the difference the Karigar Park has made in the lives of the craftsmen community.
Our visionary founders chose to start the first watch factory in Hosur, as it was in a backward district. We worked with the community to employ people from the surrounding villages, so that we could enable them to enhance their quality of life. In the jewellery business, the sector is unorganised and typically, karigars in jewellery units worked in sweatshops characterised by inhospitable working conditions.

We identified another way of doing it, which was win-win-win – for the karigar, for the company and for the customer. Through the Karigar initiative, we decided to focus on reducing costs through higher productivity by providing a better working environment. We established a Karigar Park in our unit at Hosur where we hosted the craftsmen in an industrial setting, complete with modern tools and appropriate working conditions. The initiative has yielded fantastic results. The craftsmen's health and capacities have improved, resulting in lower costs.

Contrary to the industry perception, this was not a CSR initiative, but a part of our business model. We sincerely believe that this should transcend across the industry for the betterment of the craftsmen community.

How has Titan benefitted from the Tata Business Excellence Model (TBEM)?
After Titan was founded, in the initial years, we succeeded because of our innovativeness and intuitive risk-taking. However, when we became bigger (the watches business succeeded and we entered the jewellery business), we realised that there was a need for much more informed decision making. We needed to be not just people oriented, but also process oriented.

The TBEM Assessment process showed us a mirror in where we could be better including informed decision making, continuous improvement, process orientation, measured risk-taking, etc. Over the years, this has paid rich dividends for the company, and transformed us from being merely intuitive to being informed and process-oriented.

The participants then posed very interesting questions to Mr Bhat, so much so that many questions remained pending for his attention.