Published on April 12, 2018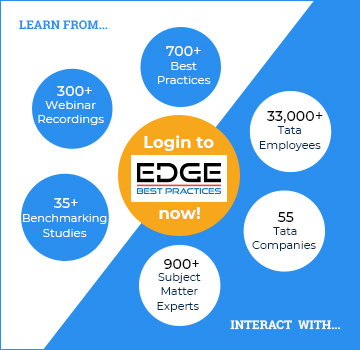 As a Tata employee, you can access more than 500 best practices from more than 50 Tata companies through the EDGE portal. Whether you wish to know about best practices related to Tata Steel's Kalinganagar plant, Tata Motors' customer relationship management, Tata Power's risk management or TPDDL's use of customer analytics – they are all available on the EDGE portal. The knowledge repository, which is part of the Tata Best Practices initiative, has today become an accepted medium for Tata companies to come together, learn and adopt practices according to the relevance to their businesses.
Such a huge collection of best practices has been made possible due to the contributions of Tata companies across business segments. The top 5 companies in this list include TPDDL, Tata Motors, Tata Steel, Tata Steel Europe and Tata Power. The multitude of best practices are also not restricted on one particular area; in keeping with the diversity of the areas in which the Tata group conducts business, the best practices are available in more than 20 areas, including Human Resource Management, Customer, Operational Excellence, Safety, Innovation, Supply Chain & Logistics, Branding, Strategy, Sustainability and many more.
In addition to being able to download any best practice from the EDGE portal, you can also connect with the practice owner to learn more details or initiate a discussion on the practice. Till date, more than 900 Subject Matter Experts are available on the EDGE portal, who can answer queries in their respective areas of expertise.
Many companies have also taken a step further in their journey of excellence by adopting the best practice posted by another Tata company. Till date, 35 such best practice adoptions have taken place with the group, in which one company has partnered with another to implement a best practice within their organisation. Such adoptions help companies to leverage the strengths of the Tata group and move towards becoming One Tata.
If you wish to know more about the Tata Best Practices initiative, you can visit https://www.tatabex.com/best-practices or contact Devraj Chattaraj at dchattaraj@tata.com.