Published on March 27, 2018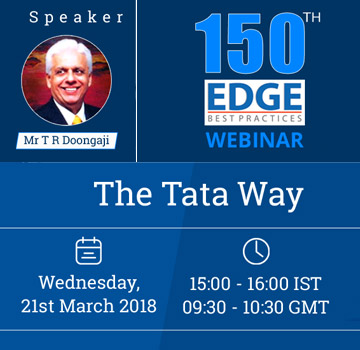 TBExG crossed a major milestone when it conducted the 150th EDGE webinar on March 21, 2018. The occasion was even more special as this webinar was conducted on the topic of 'The Tata Way' by Mr. T R Doongaji, former MD of Tata Services, and Founder and Principal Consultant of Credibility Consulting. During this webinar Mr. Doongaji spoke about the uniqueness of the Tata brand and its legacy. He delved at length about the differentiating factor of the Tata brand: Tata-ness, and spoke about how the four pillars of Tata-ness, viz. Purpose, Values, Caring and Pursuit of Excellence have shaped the way in which the group has gone about running its businesses. Mr. Doongaji also elaborated on the Tata way and how it has helped Tata become the most admired brand in the nation.

The webinar saw a record turnout. More than 1200 participants joined the webinar from more than 400 access points and 53 Tata companies, which is the best till date in terms of participation. The webinar got an NPS of 81.6.

Conducted every week, EDGE webinars feature discussions, speeches and deliberations on subjects of importance to Tata companies ranging from safety, operations excellence, business excellence, change management, project management, etc. The best practices team follows a webinar cycle for each month which includes 1 Leadership Series webinar by an MD of a Tata company; 1 Global SME Series webinar by a non-Tata leader; and 2 webinars covering best practices in Tata companies.