The annual Tata Business Excellence Convention (BEC) for 2022, was held at Taj Land's End, Mumbai on December 18-19, 2022. It was one of the most well attended conventions in recent years with 400+ participants attending in person and 1300+ virtual participants joining the webcast over the two days of the convention. This year's BEC theme, Passion for Growth – Scaling New Horizons, was reflective of the ambitious growth plans most Tata Companies have embarked on and is a microcosm of the India Growth Story.
S Padmanabhan set the context for the convention and provided an update on the progress of the Excellence Journeys across the Group.
This year we had 20 companies participating in the assessment process. The assessments were completed by 247 assessors from 51 Tata companies. Each team had assessors with an average work experience of over 21 years and 20% of the assessors, were women.
The progress reflects on how the Tata companies are maturing over the years and moving towards higher bands. In this journey, we now have 21 companies as Emerging Industry Leaders, 12 companies as Industry Leaders and two companies as Benchmark Leaders.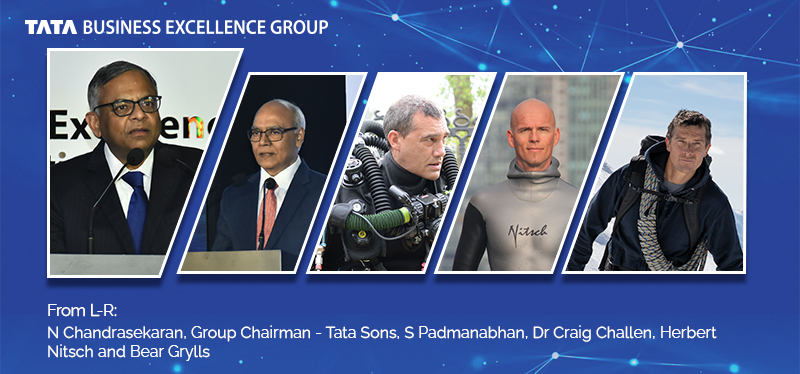 Mr Padmanabhan presented the breadth of Excellence Journeys across the Group over the years and set the context of the newest journey on Cyber security, given increased cyber security risks in a digitally connected world.
Group Chairman N Chandrasekaran unveiled the Cyber Security Excellence Reference Manual, in the presence of Mr Padmanabhan and Ms Aarthi Subramanian. This manual is based on the TCS blue tick framework and was a joint effort of the TBExG and Group Digital teams.

"I am more convinced each year of the importance of this movement. It is not only the assessment process itself, it's about a number of other things — learning, sharing, contributing, mentoring, character development, leadership development. There are many subtle things that go on in this movement."
In an inspiring and incisive address, Group Chairman, urged all group companies to take advantage of what is likely to be India's decade. He said "India is in a very unique place from the point of view of the global economy. There are significant opportunities arising that play extremely well to our strengths."
He spoke about the opportunities arising out of the several structural transitions taking place globally on every front from energy and sustainability to digital and supply chains to talent and the future of work.
He highlighted some themes that Group companies need to focus on as they imagine their future:
Artificial Intelligence (AI) and Machine Learning (ML) will have a profound impact on businesses and will "help companies in imagining their business models in a completely new way"
The sustainability transition goes beyond net zero and "companies will have to review their business models to participate in the new energy economy"
He shared how building diverse teams reaped great rewards in his career, and urged Tata group companies to broaden the definition of diversity from the conventional one
Step up investments in research and development in light of the accelerating pace of change accompanying the emergence of new energy sources, materials, battery technologies et al
He concluded by saying that he would like to see significant participation from Group companies in Affirmative action and the data movement, and significant commitment to safety.
A glittering awards ceremony followed, celebrating both individual and company-wide performances. These included individual awards for Long-Serving Mentor, Long-Serving Team Leader, and Star Team Leaders, among others. Titan and Tata Play won the awards for Active Promotion of Data Excellence (Crossing 2.5), while Tata AIG and Tata Communications received the Significant Adoption Awards for Data Excellence (Crossing 3). The evening ended with cocktails and dinner at the seaside lawns.
Click here to see the BEC 2022 photographs
Click here to see the list of recognitions in BEC 2022
Curiosity. Collaboration. Differentiation.
Day 2 began with an insightful panel discussion titled 'Conversations on Success Stories'. Naveen Tahilyani, CEO, Tata AIA Life Insurance Company Limited, Shailesh Chandra, Managing Director, Tata Motors Passenger Vehicles Limited and Tata Passenger Electric Mobility Limited, Arvind Goel, Managing Director and CEO, Tata AutoComp Systems Limited, Rajiv Sabharwal, Managing Director and CEO Tata Capital Limited and Venkatesalu P, CEO and Executive Director, Trent Limited spoke to moderator Adrian Terron on the key winning strategies that have helped them achieve greater heights in 2022, and their future growth plans.
Naveen Tahilyani described how Tata AIA differentiated itself from the competition by focusing on protection products. This has enabled it to leapfrog from the 17th spot to become the fourth-largest player today – and hopefully No. 3 by the year-end.
Shailesh Chandra of Tata Motors attributed the company's domination of the domestic electric vehicles (EV) segment, with a market share of 88%, to its early call on the technology – and on the passenger vehicle instead of the fleet segment. Immense support from the Group Chairman and group companies such as Tata AutoCopm who design EV batteries and Tata Power who set up the charging stations, enabled Tata Motors to develop its flagship Nexon EV in as little as 16 months. Some 50,000 Nexon EVs are on Indian roads today.
Arvind Goel expects Tata AutoComps to emerge as the second-largest automotive components company in India by the year-end. The company's early move on EV battery packs is paying off today. Plus, it is a leading supplier of automotive components for trucks in North America and Europe.He also elaborated on synergy with group companies.
The trust associated with the Tata group has helped Tata Capital grow its business, said Mr Rajiv Sabharwal. "Trusting data and layering it on experience is also one of the reasons we were able to achieve these results," he added. Like the other panelists, Mr Sabharwal reiterated the importance of investing in committed teams, the key players behind any company's success.
As for Trent Limited's emergence as the biggest direct-to-consumer brand in the country, Mr Venkatesalu P attributed it to its tough decision to stick to its own private label, while staying agile in a constantly evolving fashion business.
The discussion was followed by awards recognising the Best Practices Programme.
It's not over till it is over
As always, the highlight of the convention were the guest speakers. This year's speakers included renowned adventurers, whose exploits exemplify the convention's theme of Scaling New Horizons to the hilt.
The first guest speaker was Australian technical diver and cave explorer Dr Craig Challen, who regaled the audience with a detailed account of the famous18-day rescue mission of 13 people - 12 school children and their soccer coach - from an underwater cave that flooded in Thailand in June 2018.
Dr Challen described how he and his co-divers dived six hours a day to rescue the children. The meticulously planned mission was a lesson in rising to the challenge and resilience.
Austrian freediving champion, Herbert Nitsch, then described some of his feats in setting 33 world records for plumbing the depths of the oceans. His story of recovering from a coma after a diving accident was a lesson in his immense perseverance and determination.
The post-lunch session began with an exhilarating talk by renowned British adventurer, best-selling author and television presenter Bear Grylls. In three words - Failure, Fear and Fire — Grylls summarised his journey from being a part of the British military's special forces to climbing Mount Everest. Describing his experiences, Grylls said that by dealing with our failures, overcoming our fears and harnessing the fire within us, each one of us can overcome any obstacle that comes our way. "Remember, you are more capable and resilient than you thought. NGU — Never Give Up," he urged the audience.
The guest speeches were interspersed with more awards presentations. Tata Steel, Tata Motors, Tata Power Company, Tata Consultancy Services and Tata Communications took home the award for Significant Engagement in Improvement Interventions. The event concluded with a vote of thanks from Mr Siddharth Bhatt of TBExG.