Published on April 02, 2018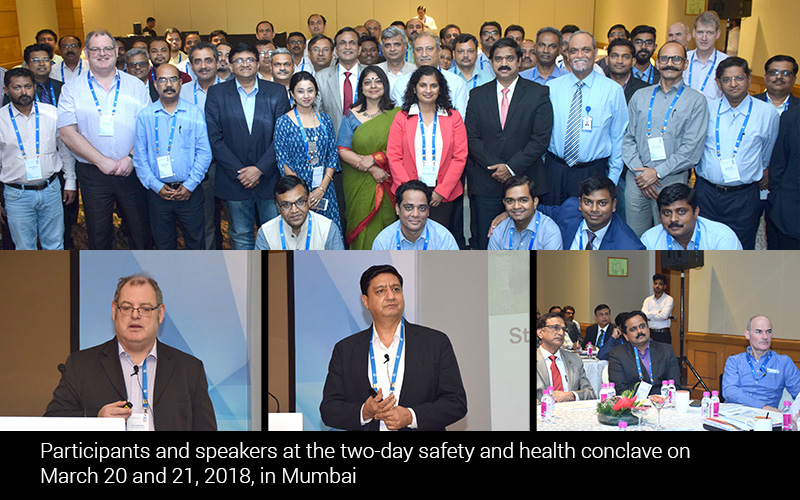 TBExG organised a two-day conclave to highlight and share best practices in Safety & health on March 20 and 21, 2018, at Vivanta by Taj - President, Mumbai. The theme of the conclave was 'Safety by Choice, Not by Chance', and 80 participants from 39 Tata group companies participated. The event brought together many companies from within and outside Tata group, including TESCO, Rallis India, Tata Communications, Tata Coffee, LafargeHolcim, British Safety Council, Tata Housing, Johnson & Johnson, Tata Power, Chilworth Global, Tata Steel Europe, Shell, Larsen & Toubro, Marriot, Hindustan Unilever and Ernst & Young.

Day 1 began with an introductory address by Gautam Gondil, General Manager, TBExG, after which Suresh Tanwar, Chief - Group Safety and Health, TBExG, made the keynote address.

M. Steve Purser, Director - Health & Safety at TESCO then talked about how the retail company is focusing on health and safety. This was followed by a session by Alok Chandra, Vice President - HR & Corporate Sustainability, Rallis India, who provided a perspective on the Safety Excellence Journey in Rallis. Mukul Kumar, AVP & Corporate EOHS Head, Tata Communications then made a presentation on the key takeaways from the Safety Deep Dive at the company that was conducted by TBExG.
The post-lunch session began with a presentation by A M Chittiappa, Chief Safety Officer, Tata Coffee, on how the company is addressing the unique risk of man-animal conflict, which has caused serious incidents. Col. Deepak Bakshi from LafargeHolcim then made a presentation on the key initiatives taken to step up Safety at the organisation.

Safety leadership being an important element to enhance safety, a session on 'Best Practices in Safety Leadership' by Mike Robinson, CEO, British Safety Council, riveted the spotlight on the critical issue.

This was followed by a presentation on 'Experiential Learning through British Safety Council Approach' by Steve Linton, VP – EHS, Tata Housing and 'Strengthening Safety Culture at Johnson & Johnson' by Vasa S, Senior Manager – Corporate Safety, Johnson & Johnson.

The second day of the conclave began with a session on Learnings from Felt Leadership Survey by Gaurang Baxi, Corporate OHS Head, Tata Power. Jitendra Kumar, who is a Director at Chilworth Global, India (Dekra), provided a perspective on Comprehensive Safety Improvement and Capacity Building.

Next up was a session by Dr. Paul Brooks, who threw light on Tata Steel Europe's journey towards becoming the benchmark in Safety in the Steel Industry. An interesting presentation on 'Creating a Culture of Keeping People Safe - Shell Way' was then made by Jeevanath Avaroth from Shell.

Kaustubh Phadke, Deputy General Manager - Corporate EHS, Larsen & Toubro, then took to the stage for an overview of 'L&T's Approach towards Safety'. Hervirender Pal Singh, Director, Safety & Security - South Asia, Marriot, provided insights about 'Addressing Safety as a Key Risk in Marriot'. This was followed by a presentation on Hindustan Unilever's approach to Safety Excellence, which was delivered by Sanjay Harlalka.

The curtains came down on the two-day conclave with a session on 'Behaviour Based Safety - Gamification' by Chaitanya Kalia, Partner – Climate Change & Sustainability Services, Ernst & Young.

All the participants found the conclave extremely useful and went away with many insights from the best practices in Safety & Health by various Tata companies and other external companies.