Published on May 17, 2018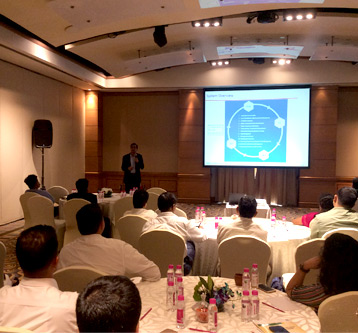 Tata Business Excellence Group (TBExG) conducted a series of workshops on office safety for Tata companies in April 2018. The series consisted of five workshops across various cities, including Mumbai, Delhi, Pune, Kolkata and Bangalore. The workshops were attended by the administration, HR and safety teams of various Tata companies. A total of 140 participants from 38 companies attended the programme.

A large proportion of a person's life is spent working in offices, where he / she is exposed to several acute and cumulative risks that may be neglected due to risk perceptions. Additionally, inadequate attention to safety risks in office has repeatedly emerged as a common OFI (opportunity for improvement) in TBEM assessments. The Tata Group Safety Steering Committee recently released the Tata Group Office Safety Standards for Tata companies. This is the eighth edition of the Tata Group Office Safety Standards released at the group level, in addition to the seven released earlier.

The training programme was conducted based on the guidelines of the Tata Group Office Safety Standards. The workshops enabled discussions around:
Key elements of the Office Safety Standards
Techniques to implement the standards at the workplace, tailored to the needs and requirements of the industry the company operates in
The dos / don'ts, key implementation challenges, best practices and ideas that worked while implementing the standards
Case studies on various incidents and the gaps in Office Safety Standards that led to these incidents
Use of videos and films — short clips and DuPont (coastal) video films
Experiential sharing of how companies have successfully implemented the standards

To know more about conducting this programme in your company, please contact the safety team at TBExG — Gautam Gondil at ggondil@tata.com or Sanjay Rajasekaran at srajasekaran@tata.com.