Published on March 11, 2019
The Group Safety & Health team at Tata Business Excellence Group (TBExG) conducted a workshop on office safety for Tata companies based in the UK on February 28, 2019. The programme was attended by participants from facilities, administration, HR, internal audit, projects and safety teams of various Tata companies. A total of 15 participants from 6 Tata companies attended the workshop.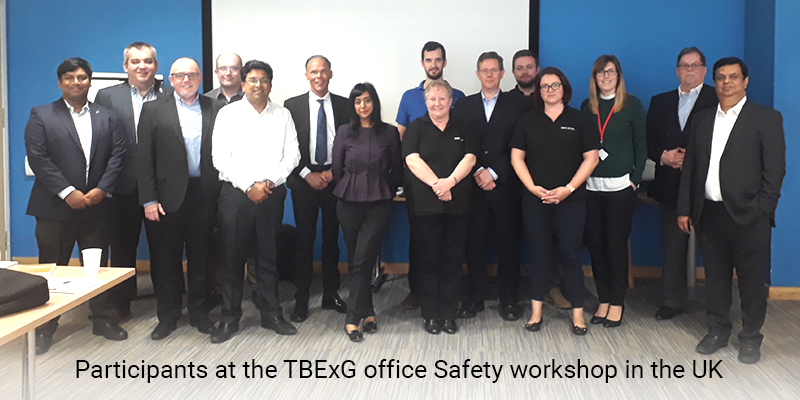 The event, which was based on the guidelines of the Tata Group Office Safety Standards, enabled discussions around:
Key elements of the Office Safety Standards
Techniques to implement standards at the workplace, tailored to the needs and requirements of the industry the company operates in
The dos/don'ts, key implementation challenges, best practices and ideas that worked while implementing the standards
Case studies on various incidents and gaps in the Office Safety Standards that led to these incidents
Use of videos and films — short clips and DuPont (coastal) video films
Experiential sharing of how Tata companies have successfully implemented the standards
The programme was organised by Keith Steel from TBExG, under the aegis of TNF Europe, and was supported by Gautam Gondil and Sanjay Rajasekaran from the Group Safety & Health team at TBExG. Sessions were also conducted on:
Office Ergonomics by Joe Cook, Human Factors and Ergonomics Specialist, Tata Steel Europe
Workplace Safety & Heath at TCS by Alan Bennet, HSE Manager UK & Ireland, Tata Consultancy Services
To know more about conducting this programme at your company, please contact the Group Safety & Health team at TBExG: Gautam Gondil at ggondil@tata.com or Sanjay Rajasekaran at srajasekaran@tata.com.