Published on December 13, 2017
Often, organisations are faced with problems that require a deeper understanding of the dynamics of the business environment, their practices, operational philosophies and overall strategy for developing an effective solution. In such a scenario, superficial solutions would just offer a stop-gap arrangement and would not provide a long-lasting remedy.

Tata Business Excellence Group's (TBExG) Deep Dive offering helps Tata companies with relatively higher business excellence maturity improve and enhance performance through a detailed diagnostic investigation of their operations. The Deep Dive processes examine and investigate specific areas that are crucial to the business of the company. After a thorough study and a detailed diagnosis, effective solutions are proposed to improve the company's performance in the specified area.

The Deep Dive team consists of subject matter and domain experts, drawn from within as well as outside TBExG and even outside the group. These experts work on a particular theme or aspect of the business to bring about a qualitative change in processes and strategy for achieving business excellence.

Using Deep Dives, companies within the Tata group can take advantage of the vast experience and advanced level of knowledge of domain experts at TBExG and outside. Deep Dives help Tata companies find a solution on various facets of business improvement based on market intelligence, industry knowledge and domain expertise. It strives to propose an all-encompassing and robust solution for definite and qualitative improvements in business practices in the organisation's endeavour for business excellence.

Deep Dives are conducted across the value chain in areas such as Strategy Deployment, Customer Centricity, Operations Excellence, Safety and Human Resources. Given below are some of the services being offered under each Deep Dive vertical: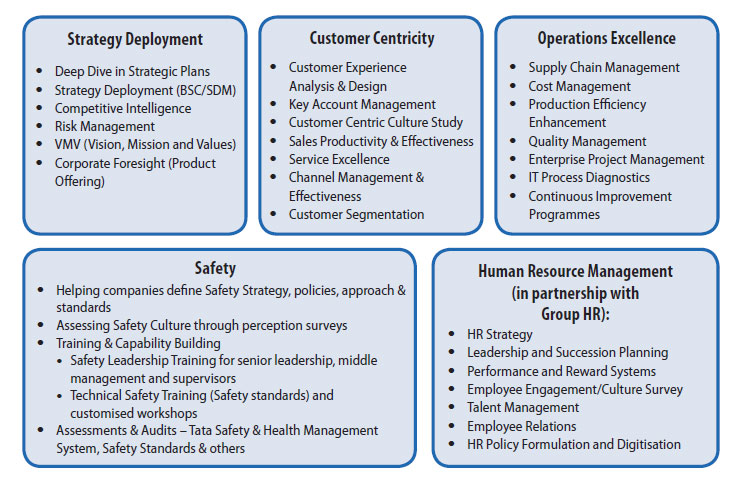 The TBExG Deep Dive process enables a company to do a granular and intensive examination at a much deeper level to ensure that the actionable recommendations yield the desired results. Best practices across the Group are identified, studied and if found feasible, adapted to propose a seamless solution to the problem at hand. The TBExG team relentlessly focuses on introducing cutting-edge methodologies and innovative concepts through the Deep Dive process.
Introduced in 2014, Deep Dive has helped many Tata group companies to achieve more significant performance levels by gaining sharp insights and actionable recommendations for business improvement. In the past five years, TBExG has conducted over 60 Deep Dives for Tata group companies across various industries.
For instance, the operations team at Voltas enlisted the support of the Deep Dive team to conduct a diagnostic study for after-sales service at one of their key BUs, Unitary Products Business group. After a thorough review of the operational processes, the Deep Dive team came up with actionable recommendations to improve and take the after-sales services to the next level.
In Deep Dive studies, the team takes a 360-degree view of the business, especially concerning the problem statement. A comprehensive and qualitative analysis, using various tools and methods is conducted to arrive at a deeper understanding of the different interplays between internal and external ecosystems, thereby leading to actionable insights cutting across functions and breaking organisation silos.

The theme for the Deep Dive is chosen based on Tata Business Excellence Model (TBEM) assessment feedback, the inputs from the company boards during the TBEM process or the company's own introspection from its leadership and strategy sessions. Based on any of the same, if you feel that you would require the services of Deep Dives, please get in touch with Vinod Kumar at vinodkumar@tata.com. To learn more about the initiative, visit https://www.tatabex.com/deep-dives.