Published on November 21, 2017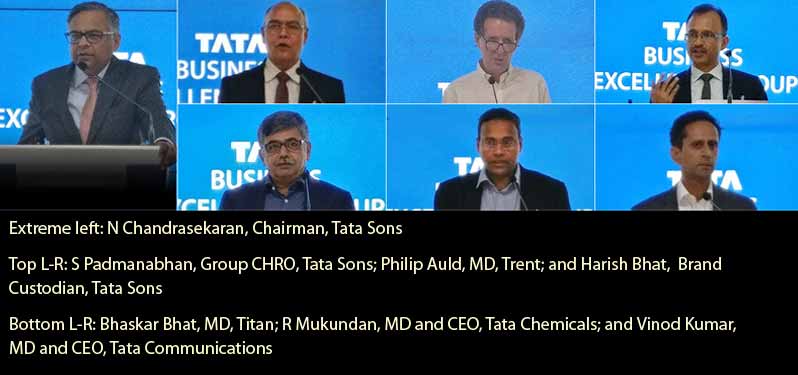 Mentors of the 30 companies that underwent the TBEM assessment cycle of 2017 met on November 22 to present the findings to Group Chairman N Chandrasekaran. The session marked the end of the TBEM assessment cycle of 2017, and was also attended by members of the Governing Council of Tata Business Excellence Group (TBExG) and senior leaders of the Tata group including Aarthi Subramanian, Chief Digital Officer, Tata Sons; Banmali Agrawala, President, Infrastructure, Defence and Aerospace, Tata Sons; Harish Bhat, Brand Custodian, Tata Sons and S Padmanabhan, Group CHRO, Tata Sons.

In his opening remarks, Mr. Padmanabhan welcomed all the senior leaders. Thanking all the Mentors for devoting time to the assessment process, he highlighted that the consistency and repeatability of the 760 assessments till date have been possible due to the dedication of the teams and their Mentors.

The Mentors of the 30 companies then took the participants through the summary of the Assessment findings for their respective companies. The 30 companies that underwent assessment were:
| | |
| --- | --- |
| Tata Sponge | JUSCO |
| Tata Pigments | TMILL |
| JAMIPOL | ISWP |
| Trent | Titan |
| IHCL | Tata Chemicals |
| Tata Steel Processing and Distribution | Tata Metaliks |
| Tata NYK Shipping | Natsteel |
| Tata Capital | Tata Coffee |
| Tata Steel Europe | Infiniti Retail |
| Tata Projects | Tata AIA Life Insurance |
| Tata Consulting Engineers | Tata Advanced Materials |
| Metahelix Lifesciences | Tata Technologies |
| Tata Advanced Materials | Tata Autocomp Systems |
| TAL Manufacturing Solutions | Tata Power |
| Tata Power DDL | Tata Business Support Services |
Once the Mentors Presentations of the findings were complete, Group Chairman took the stage to address the gathering. Highlighting that TBEM has always built a culture of excellence, he thanked the teams involved for ensuring that the journey has moved forward in the past two decades. He also shared his thoughts on how the movement could be improved further.