Published on August 02, 2018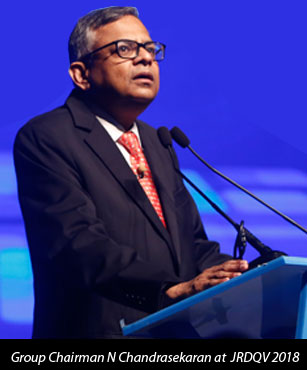 Senior leaders of Tata companies came together on July 29, 2018, at the National Centre for Performing Arts (NCPA), Mumbai, to remember JRD Tata on his birth anniversary and recognise companies that achieved various levels of maturity in the Tata Business Excellence Model (TBEM). Ratan Tata, Chairman Emeritus, Tata Sons, and N Chandrasekaran, Group Chairman, Tata Sons, also graced the occasion.
Click here to view photographs of the JRDQV 2018 winners
The evening started with the lighting of the divo by Mr. Tata and Mr. Chandrasekaran. This was followed by a poetry recital by a Tata Young Expressions winner and a photo of the winners of the Tata Young Expressions award with the Group Chairman.
S Padmanabhan, Executive Chairman, Tata Business Excellence Group, then took the stage to provide an update on the Tata Business Excellence movement. Highlighting the achievements of FY 2017-18, he emphasised that TBEM has become a systematic process which has sustained over the past 24 years. Stating that the average TBEM score for Tata companies was the highest in the past year, Mr. Padmanabhan threw light on some insights that were derived from the process in the areas of Customer, Safety, Strategy, Employee, Operations and Ethics.
The recognitions for the companies were next: eight Tata companies were recognised in three categories of recognitions.
Active Promoters of TBEM (crossing the 500 point milestone)

Tata Coffee
Tata Autocomp Systems
Tata Consulting Engineers
NatSteel Holdings
Tata Steel Europe

Emerging Industry Leaders (crossing the 550 point milestone)

Tata Capital
Tata Projects

Industry Leader

Tata Power Delhi Distribution
Next, Group Chairman made a presentation detailing the performance of companies, and how the cluster approach was helping the Tata group grow in a competitive industry. He also reiterated the importance of keeping in mind the purpose for which the group was created. Mr. Chandrasekaran emphasised on remembering our century-old value system while embracing the new business scenario.
Mr. Tata addressed the delegates, expressing his pleasure on being present at the occasion to honour JRD Tata's legacy. In his speech, Mr. Tata recalled his interactions with JRD Tata, whom he considered as a mentor and friend. He dedicated his speech to JRD Tata's terrific personality, his quest for excellence and his leadership of the Tata group for more than 50 years. He also emphasised that the group is known for being visionary, and for its unity, integrity and philanthropy; and that has not changed even today.
The session after this was by Michio Kaku, an American theoretical physicist and futurist, who took the participants through his vision of what the future of humanity will be and how technology will play a role in making the world a better place to live in.
The day ended with a beautiful performance by Samvad Musical Band, a tribal group across five Indian states, sponsored by Tata Steel.