Published on November 30, 2018
The annual Tata Business Excellence Convention (BEC) took place on November 26-27, 2018, at Taj Palace, New Delhi. The Convention, which celebrates the contribution of teams as well as individuals to the TBEM Assessment cycle, brought together over 370 participants including Group Chairman, Mentors, Team Leaders, Assessors, CEOs and senior leaders from across the Tata group.
Click here to see the list of recognitions in BEC 2018
Click here to view the recognitions photographs
Day 1 was an evening of recognitions interspersed with musical entertainment from a Delhi-based band called Antariksh. On this occasion, recognitions for teams that conducted TBEM assessments, TAAP assessments, Deep Dives and Dip Checks took place. Long Serving Team Leaders for the TBEM Assessment cycle were also honoured with a memento. For the Tata Best Practices Programme, individuals who had contributed Best Practices and conducted EDGE webinars were also recognised.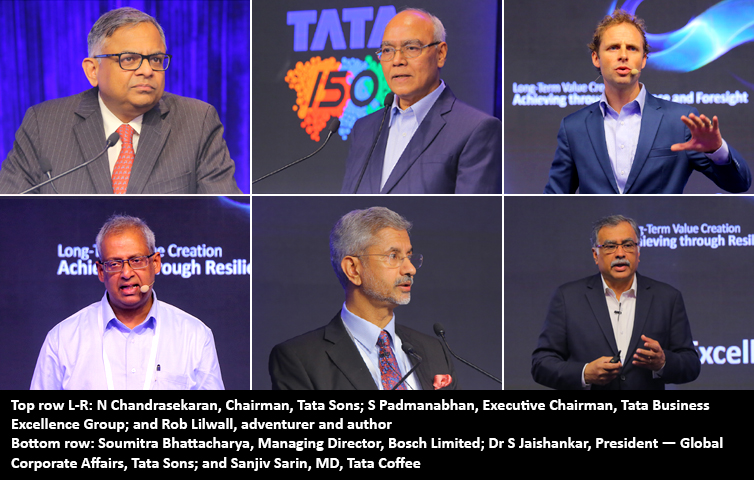 Day 2 was dedicated to interesting sessions by external and internal speakers, interspersed with recognitions. Participants also took part in the BEC application-driven poll sessions and gave their opinion on which business practice areas would help companies in the sectors of Steel, Retail & Consumer, Infrastructure, Auto, Finance and Travel & Tourism.

The day began with a session by S Padmanabhan, Executive Chairman, Tata Business Excellence Group (TBExG), who took participants through the Tata group's journey towards Industry Leadership. Highlighting the achievements of the past year, Mr Padmanabhan thanked the Mentors, Team Leaders and all Tata companies, with the support of whom the TBEM Assessment process is run.

N Chandrasekaran, Chairman, Tata Sons, addressed the audience after that. Crediting the TBEM movement for bringing companies together and facilitating sharing and learning, Mr Chandrasekaran said that all companies need to take into consideration global macros, technological disruptions as well as Indian market scenario while making their plans. He emphasised that internal agility is crucial to handle the external complexity – in that light, simplicity, synergy and scale are important for the Tata group.

Next up was Rob Lilwall, an adventurer and author, who spoke on the topic of Growth Mindset – Converting Challenges into Opportunities. Taking examples from his travel experiences, he said that an adventurous spirit is needed to deal with today's business scenario which is full of pressure and uncertainty. He added that embracing a challenge with a growth mindset ensures that one keeps learning from experiences. The idea is not to fixate on the problem, but to ask ourselves: 'What can I control right now?'

Soumitra Bhattacharya, Managing Director, Bosch Limited, then took the group through a session on Transformation in a Fast-changing Business Environment – The Bosch Story. Giving a background of Bosch as an organisation, he highlighted the similarities between the Bosch Group and the Tata Group, wherein the communities are considered an important stakeholder for both the conglomerates. He also threw light on how the Bosch Group underwent a transformation to handle the changing societal factors as well as technology disruptions.

The next session was 'Excellence, Competition and Disruption – Making Sense of a Complex World' by Dr S Jaishankar, President – Global Corporate Affairs, Tata Sons. Dr Jaishankar opined that the best way for countries to deal with the current global situation is to be flexible in their policies and build relationships across geographies.

The evening ended with a session by Sanjiv Sarin, MD, Tata Coffee, who spoke on Dealing with Man-Animal Conflicts: A Tata Coffee Story. He threw light on how the company manages relationships and lives in harmony with elephants that inhabit the areas around the Tata Coffee plantations, posing a major safety hazard.