Published on August 02, 2015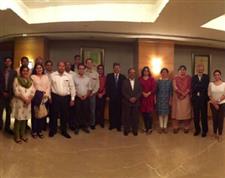 Tata Business Excellence Group (TBExG) conducted a Strategy Workshop for the Tata Affirmative Action Programme (TAAP) on July 20-21, 2015 at Taj President, Mumbai. The focus of the 2-day workshop was to discuss the strategy and future plans for TAAP under the theme "Towards Better Outcomes". The participants of this workshop comprised 25 TAAP Working Group members and senior TAAP assessors. While the first day focussed on discussing various topics important for the TAAP initiative in the Tata group, day 2 was when the outcomes of the workshop were shared with Dr NS Rajan, Member, Group Executive Council and Chief HR Officer, Tata Sons. He is also the chairman of the Group AA Forum which oversees TAAP.
The opening session on Day 1 consisted of setting the context and giving the TAAP overview jointly by NK Sharan, Vice President, TBExG; Ajay Kumar, Adviser, TBExG and Pinakshi Khandelwal, Lead - Affirmative Action, TBExG. This session went on to discuss various improvements in TAAP to enable better outcomes, including infusing greater priority to Employment and Entrepreneurship to create a differentiator for TAAP, and the finalisation of a BHAG for TAAP.
Then came a session focussed on improvements in Training and TAAP Assessments, which was presented by Mr Sharan and Vivek Talwar, Chief Sustainability Officer and Chairman - Estate Management Business Council, Tata Power. Among the many improvements discussed, key was the decision to confine the training sessions to tested and proven TAAP assessors with the objective of improving the quality of the feedback given to the companies following the assessments.
M Nagabhushan, AVP, TBExG, then gave a presentation on the logic of, and possible benefits from, integrating the TAAP assessment with the TBEM assessment, while ensuring that the salience and importance of the TAAP assessment is retained within the much larger TBEM assessment. It was agreed that a timeline for the integration should be worked upon. The last session of the day was a presentation by Anita Rajan, COO - Tata Strive, highlighting the objectives and structure of the Group skilling initiative, during which she emphasised the many possibilities of TAAP partnering Strive to ensure that, as in all Tata group initiatives, the whole becomes greater than the sum of the parts.
The second day of this workshop focussed on creating a future roadmap for TAAP through the set of recommendations and outcomes agreed upon by the workshop. The day began with Ms Asha Krishnan, manager in the office of Dr Rajan, sharing Dr. Rajan's proposal for a restructured Group Advisory team for TAAP. Later, Dr Rajan joined the workshop participants to co-create the future roadmap, injecting a few key points of his own.
Dr Rajan underlined that Group Chairman Cyrus Mistry is clear that the group needs to reinforce and fine tune what it has been doing on AA so that it can optimise the impact. His decision to have a GEC member head the Group AA Forum and his continuous participation at the AA Conventions is in line with this vision.
What the Tata group needs to do, Dr Rajan said, is to spread the circles of affinity within the Group on AA to take it to a higher level. For this it needs to leverage its own passion and commitment on AA to win over more believers and adherents within the Group. Is there any reason why all 600,000 Tata employees should not be AA believers and champions, Dr Rajan asked?
According to Dr Rajan, to make this happen, this group of senior managers who think with their heart needs to:
Become far greater intra-company evangelists; work out ways of spreading the movement within companies; set itself annual targets on how many colleagues it will touch with the AA message.
Bring in Group resources for these interactions on a need basis.
Create communication modules, including written documents and films etc., on AA and TAAP, to spread awareness about AA/TAAP and convert adherents.
The workshop resulted in several key conceptual and programmatic changes for TAAP:
TAAP needs to work towards making Employment and Entrepreneurship, which are collectively focused on ensuring more livelihoods, as the key differentiators of AA going forward. However, the team needs to ensure that the other Es – critically Employability and Education – remain as strongly on the company radar as key enablers. At the same time, the team needs to optimise Group levers available – Tata Strive for Employability and nascent Group Education initiative – to drive TAAP objectives on those Es and other Es like Essential Amenities and Ethnicity.
Have a formal mechanism with Tata Strive to ensure "due share" for SC/ST youth within the skilling initiatives is overseen by Strive.
On Employment:
Enhance livelihood opportunities in a company's eco-system in addition to company direct rolls; sensitise HR teams critical for achieving desired outcomes; initiate monitoring of "due share" in AA representation/voice at management levels.
On Entrepreneurship:
Increase value and volume of business – enhance the company's strategic understanding of role of Entrepreneurship and setting up commensurate processes and programs which can include:
Setting up data base, central and local, of entrepreneurs
Increased support and positive discrimination in procurement; facilitating funding, obtaining licenses/ permissions, mentorship.
On improvements in TAAP Training and Assessment:
Increase participation of companies in TAAP Assessments; initiate continued engagement (post assessment) with smaller companies by assessment teams.
Up the bar for companies with 600+ scores (Jury's Awards winners) by changing their norms, requiring them to:
Innovate "next practices" and claim new "Game Changer" award
Be a role model and protagonist of AA
Embed right mechanism for impact measurement
Embed TBEM concept of 2Is (Innovation and Integration)
Develop an AA alumni
To improve the quality of assessors and assessments, ensure:
Continued focus on leveraging trained assessors
Introduce simulation in trainings
Develop module in assessor training to enable deeper engagement with companies
Embed TBEM concept of 2Is (Innovation and Integration)
Introduce mentorship (like in TBEM)
Encourage companies to precede an external assessment with an internal assessment