Published on September 21, 2021
The bi-annual AA Champions Meet for 2021 was conducted by Tata Business Excellence Group (TBExG) on September 28, 2021, with 70+ AA Champions and HR professionals from Tata companies attending the event. Speakers at the Meet were prominent contributors and experts in the field of Affirmative Action, from companies including TCS, Tata Power, Tata Communications, Tata AIG, Trent Hypermarket, Tata Steel, Infiniti Retail and Titan. The meeting was hosted virtually by Shreyas Desai, DGM, TBExG.
The first session was by NK Sharan, Vice President, TBExG, during which he threw light on the changes to the Tata Affirmative Action Programme in the past year. He discussed about expanding the definition of AA Communities to include Women and Person with Disabilities and the focus on digital divide gaining more importance due to the pandemic.
Priya Mahapatra, General Manager, TCS, then took the participants through some insights on the TAAP facilitation process by Infiniti Retail assessors, which was a pilot project undertaken this year. Ms Mahapatra explained that a key part of the process was understanding the context of the company in question, including the CSR work, social context, volunteering efforts, etc. Once this is done, a SWOT analysis is conducted to determine the Es applicable for the company and then best practices and recommendations are shared. A number of group companies have expressed their interest to participate in the 'Facilitation offering'.
This was followed by an interesting panel discussion on the topic of 'Impact of COVID-19 on women from marginalised communities'. Moderated by Alka Talwar, Chief CSR and Sustainability, Tata Chemicals, the panel included Joseph Sunil Nallapalli, India Head - CSR, TCS; Jyoti Bansal, Chief - Branding, Communications, CSR, Sustainability, Tata Power; Supriya Singh, Global Head - CSR, Tata Communications; and Devang Pandya, Chief Manager and Lead - CSR and Ethics, Tata AIG. Each AA expert detailed how their respective company initiatives were impacted by COVID-19, and what steps they took to mitigate the same.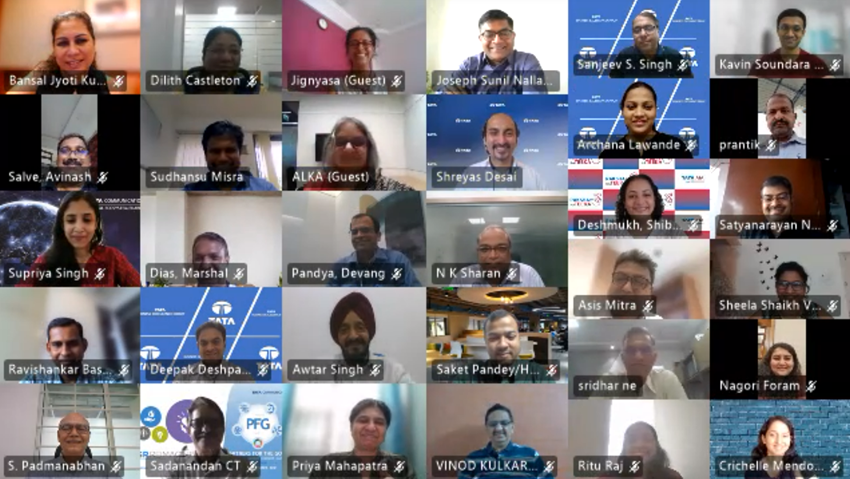 The next engaging panel discussion was on 'PWD adoption in companies from marginalised communities'. This session was moderated by Archana Lawande, Deputy Manager, TBExG, and panelists included Atul Sahay, ex-Tata Steel employee; Ritu Raj, Lead - Diversity, Inclusion and CSR, Trent Hypermarket; Ravishankar Basavaraju, General Manager - Human Resources, Infiniti Retail; and N E Sridhar, Head - Corporate Sustainability, Titan. Each company presented their initiatives in employing persons with disabilities and the results that those initiatives have achieved. At the end of the discussion, a PWD employee from Trent Hypermarket as well as from Infiniti Retail addressed the participants, detailing how their companies have made them feel inclusive in the work environment.
Following this, Mr Sharan hosted a surprise session, during which the group bid farewell to Ms Talwar, who is retiring shortly from Tata Chemicals.
The session ended with an open house with S Padmanabhan, Chairman - Governing Council, TBExG.