Published on August 01, 2019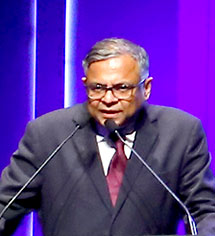 The 25th year of JRDQV was celebrated on July 29, 2019, at NCPA in Mumbai. More than 600 senior leaders from across the Tata ecosystem gathered at the venue to pay homage to JRD Tata on his birth anniversary and celebrate his spirit for excellence. Mr. Ratan Tata, Chairman Emeritus and Mr. N Chandrasekaran, Group Chairman, Tata Sons, graced the occasion along with other senior directors.
Click here to view and download photographs of the JRDQV 2019 event

The evening started with the traditional lighting of the divo by Mr. Tata and Mr. Chandrasekaran.
The first session of the evening was from Ron Kaufman, who was the keynote speaker for the event. Mr. Kaufman is a world-renowned educator, author and motivational customer service keynote speaker on the topic of achieving superior service. His session on How Do We Create Value threw light on the six levels of service, including criminal, basic, expected, desired, surprising and unbelievable! He mentioned that in today's scenario, these levels of service are continuously moving, hence excellence is a moving target. He also elaborated that the levels of service need to be married with the four categories of values, namely primary products, delivery systems, service mindset and ongoing relationship. This is what truly creates value. His talk was intertwined with the interesting example of the transformation of Changi Airport.
A short film titled Guiding Light, which paid homage to the 25th year of the JRDQV, was played.
S Padmanabhan, Executive Chairman, Tata Business Excellence Group, then took to the stage for his session on Co-creating Excellence. Mentioning that the Tata group has continued the legacy of JRD Tata by pursuing excellence through the Tata Business Excellence Model for the past 25 years, Mr Padmanabhan provided an overview of where the Tata group companies stand in their journey today. He also provided an update on the activities that have created value for the Tata group in the past year.
Mr. Padmanabhan's session was followed with a short film titled Reflections, which highlighted the achievements of the 17 Tata companies that have won the coveted JRDQV Award.
The recognitions for the companies were next: eight Tata companies were recognised in three categories of recognitions.
Emerging Industry Leader (crossing the 550-point milestone)

ISWP
Tata Steel Thailand
Tata AIA Life Insurance
Voltas
Tata Motors

Industry Leader (crossing the 650-point milestone)

Tata Steel
Titan
Tata Sponge

JRDQV Award Winner
After this, Group Chairman Mr. Chandrasekaran made a presentation detailing the financial performance of Tata companies in different clusters. He also highlighted the factors that can be opportunities which the Tata group can leverage to its advantage.
The evening ended with a mesmerising performance by tabla maestro Ustaad Zakir Hussain, along with Rakesh Chaurasia, Taufiq Qureshi, Sabir Khan, Jayanthi Kumaresh, Sanjay Divecha and Zubin Balaporia.