Published on December 13, 2019
The Mentors of TBEM Assessment teams of the 2019 cycle presented the key findings of their respective companies to N Chandrasekaran, Chairman, Tata Sons at a meeting on December 2, 2019. The session, which took place at Bombay House, Mumbai, was attended by Mentors; S Padmanabhan, Executive Chairman, Tata Business Excellence Group (TBExG); and members of the Governing Council of TBExG. With this, the TBEM Assessment cycle of 2019 came to a formal closure.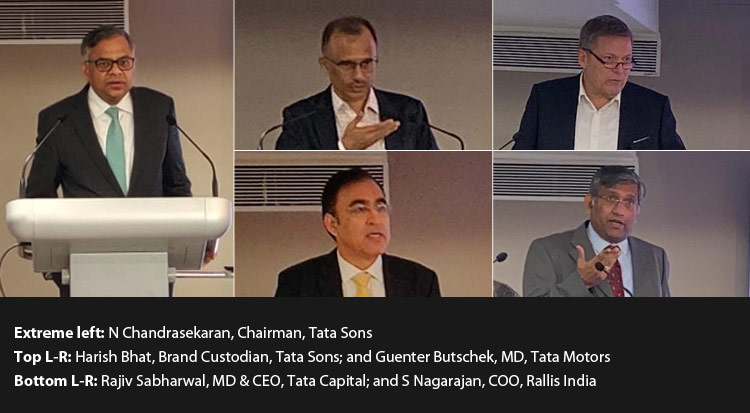 Mr Padmanabhan, in his opening remarks, thanked all the Mentors who had guided the TBEM Assessment teams during the process, and mentioned that they added unique insights to the company's feedback. He said that TBExG will continue to strive for strengthening the culture of excellence through customised TBEM Assessments, Data Maturity offerings, Best Practices and Improvement Interventions according to the requirements of the companies.
The companies that participated in the TBEM Assessment cycle in 2019 were:
| | |
| --- | --- |
| Tata Consultancy Services | Tata Chemicals |
| Indian Hotels Company | Infiniti Retail |
| Tata Sky | Tata Projects |
| Tata Consulting Engineers | TMILL |
| Tata NYK Shipping | Tata Metaliks |
| Tata Pigments | Tinplate Company of India |
| Tata Coffee | Tata Autocomp Systems |
| TSPDL | Trent |
Mr Chandrasekaran, in his closing remarks, acknowledged that the TBEM Assessment process adds tremendous value for the Tata group, and said that it is important to work on the patterns that emerge from the findings. He highlighted some important areas that require attention such as safety, financial performance, focus on digital, and usage of data to make business decisions. He also said that he was happy to see senior leaders spending time in mentoring the TBEM Assessment process, as well as learning from other companies for their own benefit.