Published on December 16, 2021
Mentors, Team Leaders, Deputy Team Leaders, assessors, and Tata company CEOs attended the Tata Business Excellence Convention (BEC) for 2021, which was hosted in a phygital format on December 13-14, 2021. The annual event drew 1800+ participants, 150 of whom attended physically, in accordance with current COVID-19 norms, whereas the rest joined virtually. BEC 2021 had sessions by motivational speakers like Debra Searle, Sonam Wangchuk and Captain Raghu Raman. N Chandrasekaran, Group Chairman, Tata Sons, and S Padmanabhan, Chairman - Governing Council, Tata Business Excellence Group, also addressed the participants on Day 2 of the convention. The theme of BEC 2021 was 'A winning mindset – Beating the odds; long-term value creation'.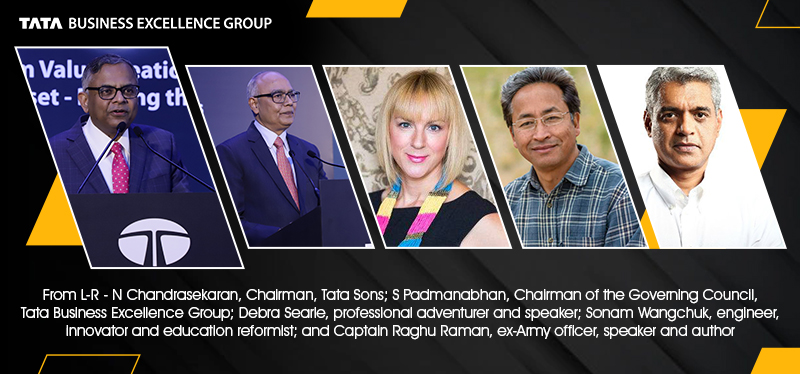 Pooja Johar from Nelco and Tanu Shrivastava from AirAsia, who were the hosts for Day 1, welcomed the participants and set the context for the convention. The first external speaker for the day was Debra Searle, professional adventurer and speaker, who undertook a solo Atlantic Row for 111 days and 3300 miles on a boat. She took participants through her story, sharing the ups and downs when she carried on the journey alone after her partner had to be rescued after a few days. Imagining her journey in the form of a movie; creating a scale for situations based on a 'how bad is it' criteria; using music to recall happy memories; and pushing herself out of her comfort zone were some of the tools that helped her create a winning mindset. Click here to see the visual representation of Ms Searle's session.
Click here to see the photographs of BEC 2021
Click here to see the list of recognitions in BEC 2021
This was followed by recognitions for the teams that conducted the Business Excellence Assessments, Deep Dives and Data Maturity Assessments.
The second external speaker for the day was Sonam Wangchuk, engineer, innovator and education reformist, who became a household name after the release of the movie '3 Idiots', which was based on his life. During his address, Mr. Wangchuk shared his learnings on innovation, leadership and excellence while living in the mountains in a remote place like Ladakh. Throwing light on his experiences, he mentioned that the 3 life lessons he has learned are curiosity, empathy and a spirit of initiative. These 3 aspects combined, can make a person a problem solver and leader, as well as help them gain true knowledge and learning. Click here to see the visual representation of Mr. Wangchuk's session.
This inspiring session was followed by Best Practice Programme recognitions, post which Day 1 came to an end.
On Day 2, Deepak Deshpande, VP, TBExG, who was the host for the day, welcomed the participants and set the context. The first session for the day was by Mr. Padmanabhan, who shared an annual update regarding the Business Excellence Assessment cycle of 2021. Mentioning that this year was underscored by its hybrid nature, with Tata companies leveraging a mix of virtual interactions and in-person meetings, he added that the journey towards world-class performance has become repeatable, measurable, and scalable in a systemic and inclusive manner through the Excellence Frameworks including Business, Social, Data and Safety Excellence. Mr. Padmanabhan went on to throw light on all the projects that TBExG has completed in the Excellence journey as well as in Best Practices sharing and implementations.
The most awaited session of the day, that by Group Chairman Mr. Chandrasekaran was up next. Thanking the CEOs, Mentors, assessors and TBExG for its deep commitment, collaboration and ownership of the business excellence platform, Mr. Chandrasekaran said that he was happy to note that in a difficult year, a hybrid way was adopted to successfully conduct the assessments. He said that TBEM brings a unique advantage for the group, through which companies can learn from each other, get an outside-in perspective and improve their processes and systems. Group Chairman stressed on the group's key themes, which are to strengthen the core with 3S (Simplify, Synergise, Scale); transform the core; and build the future. Mr. Chandrasekaran mentioned that through existing companies and newer platforms, 4 key themes are bringing about a transformation for the Tata group: Digital, Sustainability, Supply Chains and Health & Safety.
Captain Raghu Raman, who is an ex-Army officer, speaker and author, then took a session, taking participants through various experiences, stories and examples based on 35 years of experience and highlighted various risks faced by corporates. Taking the examples of diseases that a body suffers, he said corporates also suffer through problems like Arthritis (wherein they suffer from rigidity within the organisation); Coronary (wherein a powerful environment has to be created to boost creativity); and Alzheimer (wherein the organisation needs to be reminded of its own past might or glory). Click here to see the visual representation of Captain Raman's session.
All the sessions were interspersed with recognitions for Business Excellence, Data Maturity and Best Practices Programme recognitions. The event concluded with a vote of thanks.