Published on December 12, 2019
The annual Business Excellence Convention (BEC) organised by Tata Business Excellence Group (TBExG) was held on December 9-10, 2019, at Taj Lands End, Mumbai. The event brought together over 300 participants including Group Chairman, CEOs, Mentors, Team Leaders and senior leaders from across the Tata group. The BEC celebrates the contribution of the assessment teams, assessors, team leaders and mentors, without whom the entire assessment process would not have been possible. This year, the Convention recognitions were also given to companies and individuals who have engaged with TBExG across Best Practices and BE Practitioners programmes to help build a culture of improvement and excellence within the Tata group.
Click here to see the list of recognitions in BEC 2019
Click here to view the recognitions photographs
The start of the Convention focused on recognising the effort that teams put in to deliver actionable outcomes that help companies progress on the BE journey. These recognitions included TBEM Assessment, Dip Check teams and Deep Dives teams. Since Data Maturity assessment was also launched in the past year, teams that conducted such projects were also recognised. Also called out was Long Serving Team Leader as well as host companies of the most popular webinars of the year. The day was interspersed with entertainment sessions by inhouse talent from within the group.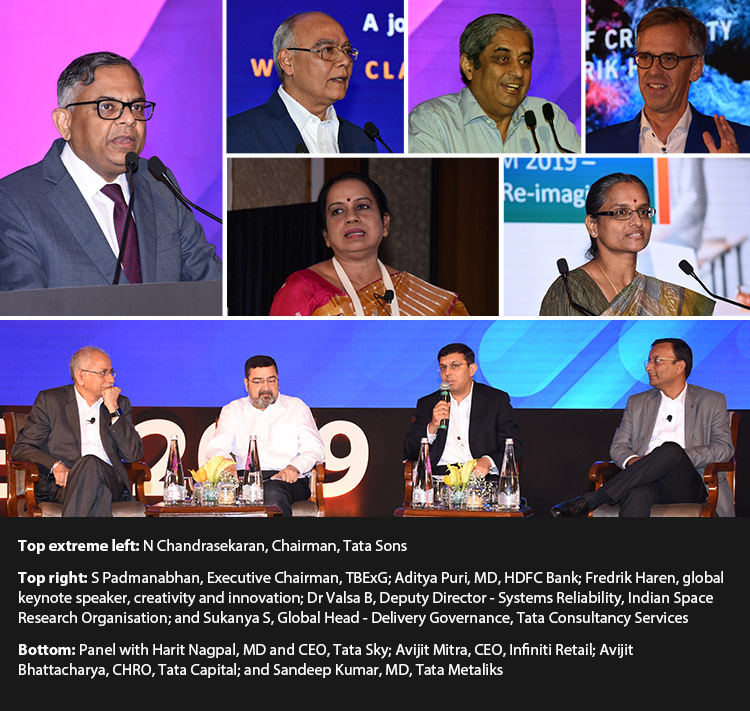 There were many interesting sessions by prominent external and internal speakers on the theme of Creating Long-Term Stakeholder Value. S Padmanabhan, Executive Chairman, TBExG, opened the session with highlights of the year gone by. Talking about the progress made by the Tata group in its business excellence journey, he also threw light on the kind of projects that companies had completed.
Aditya Puri, MD, HDFC Bank, threw details on the transformation of the organisation. He spoke about how digitisation is the next step forward and stated that growth will be much faster with access to wider geography, more personalised product offerings and optimum usage of technology.
Mr. N Chandrasekaran, Chairman, Tata Sons, highlighted that the group's purpose of Leadership with Trust has been driven through TBEM and TCOC, two very important tools which have helped all group companies across multiple dimensions over the past 25 years. He stated that while the group had addressed its leverage issue, the TBEM framework is a brilliant way to look at strategy. He emphasised that digital is important to strategy and is key to tightly integrated customer experiences and building scale. He reiterated that all companies must aim for #1 in their markets and reach there with focus on financials and an eye on ecosystems, which is different from the way companies operated in the past. The Group Chairman's focus on Sustainability was clearly visible, when he said that we have to come up with an answer to our carbon footprint.
Mr. Chandrasekaran also launched the Data Maturity reference manual which will be used to conduct Data Maturity assessments for Tata companies in the coming months.
There was also a CEO panel with Harit Nagpal, MD and CEO, Tata Sky; Avijit Mitra, CEO, Infiniti Retail; and Sandeep Kumar, MD, Tata Metaliks, moderated by Avijit Bhattacharya, CHRO, Tata Capital. Mr Nagpal explained how it is easy to copy technology but not so easy to copy culture. Tata Sky has open office spaces and each person is a designated Collaborator Experimenter and Owner (CEO) over a long journey to build a collaborative and open culture. Mr Mitra spoke about how Croma first disrupted the market and then got disrupted itself. He said that his focus was on ensuring that the company answered the simple questions on why people should buy from Croma and also hired brand managers to solve customers' in-depth queries. Mr Kumar described how it is important to simplify what has to be achieved and how Tata Metaliks used the six strategic objectives derived from 11 TBEM core values: cost leadership, supplier of choice, robust people practices, safety, responsible corporate citizenship and digital roadmap to drive the workforce on an ongoing basis.
Fredrik Haren, a global keynote speaker, took a session on creativity and innovation. Saying that creativity ranks first in the top soft skills and third in the top skills for 2020, he challenged the audience on how creative they think they are and backed it up with an interesting game. He asked the audience to list impossible ideas that they could think of, and then went on to show that eight of the ten ideas collated were also listed by attendees of previous sessions he had conducted. He said that we can learn from each culture, and embrace the learnings to create beneficial situations.
Dr B Valsa, Deputy Director - Systems Reliability, Indian Space Research Organisation (ISRO), explained the vision of Dr. Vikram Sarabhai and also threw light on the structure of the organisation. Talking about some of the projects that were completed successfully by ISRO, she highlighted the challenges the team faced in completing a successful mission, as well as the way forward for the organisation. She also said that the rigour of process, review and oversight allows a group of ordinary people to come together and achieve the extraordinary in pursuit of a dream.
Sukanya S, Global Head - Delivery Governance, Tata Consultancy Services (TCS), took the delegates through the company's assessment journey – right from the time it started participating in the process in 1999 to becoming the Industry Leader in 2018. She highlighted the challenges on getting the whole company on board to participate in an assessment and how, with TBExG and the leadership support, they were able to bring more people on board and derive value from the TBEM Assessment process.